Wrestlers Obliterate Competition at Moravia
by Caleb Peter
On Jan. 23, the Mustang wrestlers travelled to Moravia to wrestle Central Decatur, Van Buren and Moravia. After this meet, the three defeated teams were scratching their heads wondering what PCM was putting in its water. Due to attending his son's surgery, head coach Jeff Nicholson couldn't make it. Coaches Rusty Vos and Jim Oldham were there to coach the team. The team wrestled Central Decatur first.
This meet started at 160 pounds. Junior Wes Cummings started the night by defeating his opponent with a tech fall in 3:49. Juniors Lucas Roland and Jarron Trausch received forfeits at 170 and 182, respectively. The heavyweights, senior Noah Anderson at 195, junior Dalton Schlangen at 182, and sophomore Jace Smith at 285, all received forfeits.
Freshman Landon Fenton at 106 and sophomore Payton Drake at 113 both pinned their opponents. At 120, senior Caleb Peter was pinned by his opponent. Junior Clay VanWyk at 126 pinned his opponent. Freshman Mason Shirk at 132 received a forfeit. Junior Cody Wallace at 138 pinned his opponent. Junior Kaeden VanSoelen at 145 was pinned in the third period by his opponent. Senior Drew Johnson ended the dual with Central Decatur with a forfeit. The Mustangs wiped out Central Decatur with a score of 71-12.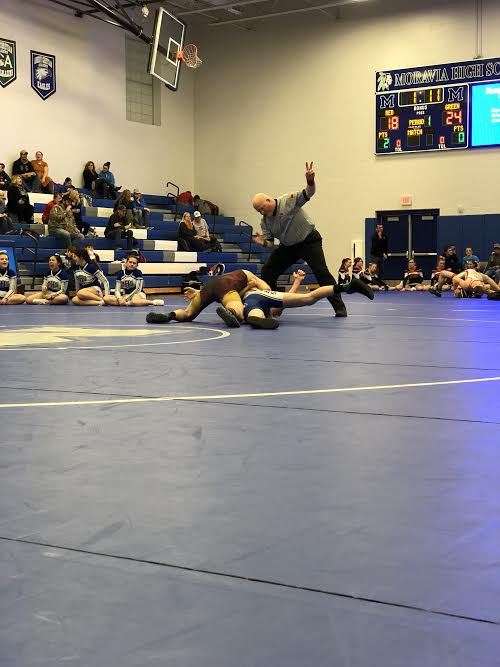 The Mustangs faced Van Buren next. It went quickly. Schlangen, Smith, Drake, Peter, VanWyk, Wallace and VanSoelen all received forfeits. Trausch and Anderson both pinned their opponents at 55 seconds and 54 seconds, respectively. Fenton pinned his opponent in just 23 seconds. Shirk lost by major decision 13-0. Johnson, notorious for his close matches, lost his match by one point. Cummings pinned his opponent in 26 seconds. Roland won his match due to his opponent forfeiting because of injury. PCM beat Van Buren 72-7.
During a break between matches, instead of the normal warm-ups, the team played foot tag. The game of foot tag ended, the break was over, and PCM faced off against Moravia. Once again, it was almost total domination. Trausch, Anderson, Fenton, Drake, Wallace, and Johnson all pinned their opponents. VanWyk won by decision 2-0. Shirk lost by tech fall, 18-0. VanSoelen was the only one on the team to get pinned. His opponent was Nicholas Martin, who had more than 150 wins throughout his high school career. The rest of the points scored for the Mustangs were by forfeit. The meet ended with PCM obliterating Moravia 69-11.
With another night of domination in the books, no one can deny that this year has been very successful for the team. Oldham has been deeply involved the local wrestling community since 1975. He has coached and been around the PCM wrestling team through its best and worst years.
Oldham said, "This is the best team to have come through PCM, and it will get even better. We also have some of the best coaches in the state too,"
With Oldham, Matt Teeter, Vos, and Nicholson, the team has been privileged with great coaches. The team is ranked sixth by the Iowa Wrestling Coaches and Officials Association final duel rankings. Although this might be the best team and program to ever come to PCM, the trials of state competition are just around the corner. Will they meet success?
Oldham said, "I think as a team they deserve to and as individuals they deserve to go to state."
Whether or not they will succeed because of the combination of strength, hard work, health, heart and luck, Oldham doesn't know. It all starts this Saturday, Feb. 3, when the team will wrestle next at sectionals at North Polk. The history making team will be hosting a meet in Mustang territory for the regional duels on Tuesday Feb. 6.