Arm in arm: PCM proves no one fights alone
by Kinsey Phipps
"She is the sweetest little lady I've ever met. She'd do anything for me. She's my role model."
PCM wrestling fans alike know the name Lucas Roland. Every time he steps on the mat, Lucas' extensive skills and years of work are evidently shown. Lucas is a force to be reckoned with on the wrestling mat, but up in the stands sits his biggest supporter, number-one fan and the source of his strength. There sits Jeri Roland, Lucas' mother.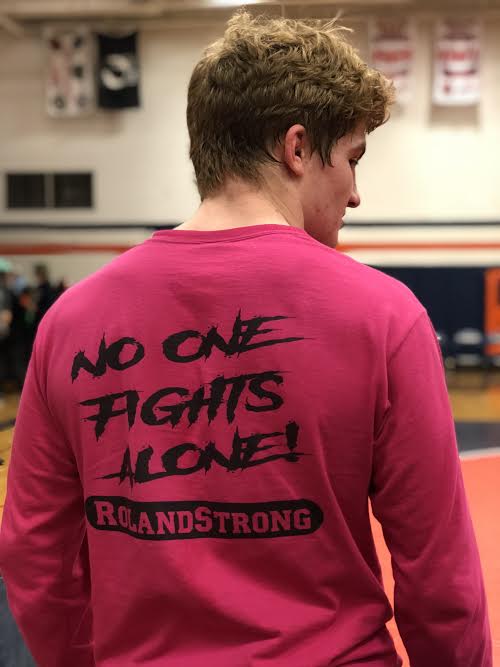 Before wrestling season began, the lives of the Roland family took an unexpected turn. Through a Facebook post on Jan. 2, Jeri announced to all friends and family that she had begun fighting her battle with breast cancer. Jeri was diagnosed in late October of 2017, Breast Cancer Awareness Month.
"Our family had known since October about Jeri's diagnosis, but we kept it private. When she was ready, that was her story to tell. After she posted on Facebook and told everyone, the wheels started turning. The Roland's are close family friends, and we wanted to show our support for not only Jeri and her family but also for Luke who is a teammate and a second son at my house," Amber Wallace said.
Not only are the Wallace's and the Roland's active supporters of the Mustang wrestling program, but their sons are like brothers. Junior Cody Wallace and Lucas have been the best of friends since Lucas moved to PCM in 2015 for the wrestling program. On the mat, in the halls, or hanging out at home, Cody and Lucas are inseparable. Because of the boys' close relationship, the Wallace and Roland families have grown close over the years as well.
Upon Jeri's public announcement of her diagnosis, Amber went to work. Amber contacted Jared Kleinmeyer at Elite Sports with an idea to make shirts for the team and the wrestling community to be worn at the PCM Mustang Invitational on Jan. 6 in support of Jeri. However, there was one problem; the tournament was four days away.
"Overnight with a little sleep, I came to the reality that there is no way we are going to get a shirt designed and delivered to our school by Friday [with the tournament on Saturday]. I emailed Jared back the next morning apologizing for the ridiculous request and asked what would be possible. I thought maybe we could have them by senior night," Amber said. "Jared responded by saying 'It's our slow season. Give me a few minutes and I'll see what I can do.' Within the hour, Jared emailed me the design art, and a stellar price so they could be used as a fundraiser. [The shirts] were at the school Friday when I got off work."
Coaches, wrestlers, managers and many parents were sporting their "PCM Takedown Cancer" shirts at the home tournament as a surprise for Jeri. The cheerleaders even added a pink ribbon to their cheer bows in support. Head coach Jeff Nicholson instructed the wrestlers to wear their shirts for warm ups at every future competition for the rest of the season. Nicholson also provided the team with breast cancer awareness socks to wear this season. With Jeri's blessing, the shirts were sent out to the community to be purchased by anyone who wished to support the cause. The money raised from the shirts was donated to the Roland family.
"I thought the shirts were really cool. It made me feel like there were a lot of people there for us. Not just the people I knew, but the whole community. I had people messaging me who I hadn't talked to since junior high from opposite sides of the state wanting to buy shirts. It's crazy," Lucas said. "Weird things happened out of nowhere. Out of the last year I have figured that out."
The year 2017 was not kind to the Roland family. In March, they had a barn burn down containing nine horses. Two were mares about to have their offspring. Only one horse survived. Just when it seemed the family recovered from the loss of the barn and their horses, the family got news of Jeri's diagnosis.
Throughout the family heartache and ups and downs, one thing stayed constant: wrestling.
"I don't think Jeri has missed one meet or dual due to not feeling well. If she isn't feeling well, you would never know it. She cheers for every single wrestler, always with a smile on her face," Amber said. "Her positive attitude and fight will get her though this. She's a wrestling mom. She's amazing. The PCM community is here for them, whatever they need."
The Roland family gives their full support to Lucas' passion for wrestling. His father, Dan Roland, has been Lucas' lifelong coach and mentor. Jeri has been matside as his support system and caregiver.
"Her diagnosis hasn't affected my wrestling negatively, but it definitely pushed me and made me want to practice harder and perform better," Lucas said.
As the wrestling season comes to a close, Lucas' focus will continue to be on his mother. Jeri's chemotherapy treatments began in early December and will continue through late April or early May.
Lucas said, "I've learned about being there for the people you care about and not taking things for granted. [This experience] has helped me to keep the negative people out of my life because you need to save time for the people who matter."
According to Lucas, this year has made the Roland family stronger than ever. The PCM community has joined together to make sure the Roland's know they are not fighting this battle alone. Jeri is in the arms of hundreds who are helping her fight the battle with breast cancer, one takedown at a time.