Basic training grad, full-time DMACC student, high school senior
by Kinsey Phipps
Walking down the halls of PCM High School, there are people of many different
backgrounds, interests, and involvements. Senior Ben Block's schedule is full of
your typical high school courses, but he is battling some other obstacles at the same
time.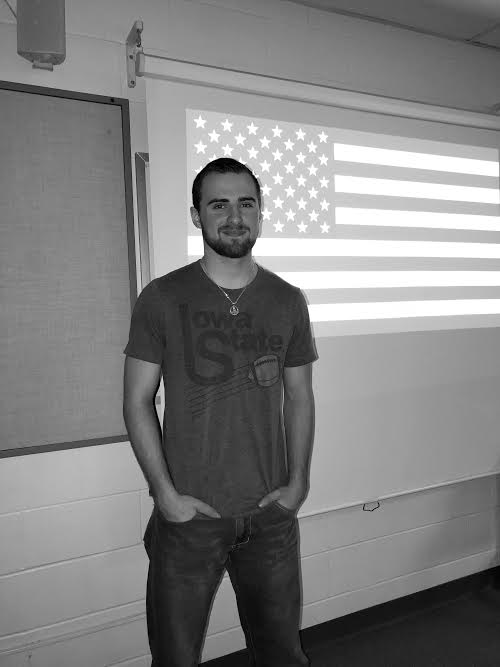 Block is taking advantage of free, online Des Moines Area Community College
(DMACC) courses offered at PCM, as do many juniors and seniors who qualify.
Block, however, is challenging himself by taking four courses at a time. This means
Block is considered a full-time DMACC student, as well as a full-time PCM High
School senior.
Previous to this semester, Block took three DMACC courses totaling 12 credit
hours. This semester, Block is tackling four courses totaling 13 credit hours. Block's
courses include an English course, a psychology course, a political science course,
and a history course. Upon Block's upcoming 2018 graduation date, he will have
completed 25 credit hours, nearly an entire year of college.
"[The classes were] overwhelming at first, but I know history material really
well, so that class comes easy to me. I'm good at writing papers, so that comes easy
to me, and psychology is relatively familiar because I took that class in high school
before. If I get organized right, I will have time to take notes, study, and focus on
extracurricular activities also," Block said.
Block will be attending Iowa State University (ISU) in the fall of 2018 with a
major in history and a possible double minor in German and political science. He
will be working on getting his teaching endorsement in history, as well.
"I am really looking forward to meeting more people. Our one dorm, Willow, will
have more people in it than the whole high school population. There will be plenty
of opportunity to meet new people, gain new friends, and have new experiences,"
Block said.
In addition to his studies, Block will be in the Reserve Officer Training Corps
(ROTC) program at ISU.
Block said, "They are going to train me to be an officer while I am in college. I
will be a commissioned officer in the U.S. Army when I graduate."
In June of 2017, Block left for infantry basic training in Fort Benning, Ga. He
graduated from basic in August of 2017.
"There are a lot of things I learned [in basic]. I learned not to be a picky eater. I
learned teamwork. You meet a lot of different people from everywhere, and you
have to learn how to work with them," Block said. "The biggest thing I learned that
transfers to a career is how to work with people who aren't like you."
Block has always wanted to be in the Army ever since he was a boy. However,
he has also always loved history and wanted to teach. Block found a way to make
both of his dreams become reality.
Block said, "I wanted to get my college done now instead of later. My brother
went active duty planning on going to school after, but he didn't have any desire
once his time in the Army concluded. Because of that, I wanted to go to college first
to make sure I would get my degree."
Currently, Block is spending time between being a full-time high school senior
and a full-time DMACC student simultaneously. Once he steps foot on the campus
of ISU in the fall of 2018, Block will be working on both of his dreams at the same
time.