Mustangs crown six HOIC champions
by Kinsey Phipps
After claiming the Heart of Iowa Conference (HOIC) dual team title on Jan. 18, the PCM varsity wrestling team attempted to prove their conference dominance by winning the HOIC Tournament at Roland-Story High School on the morning of Jan. 20. The 'Stangs did just that, placing first in the tournament by nearly 60 points. PCM earns the title of HOIC Tournament champions with 223.5 points, with Greene County coming in second with 165.5 points.
With only eight teams in the HOIC, it was a shorter Saturday for the 'Stangs than usual. Starting off was 106-pound freshman Landon Fenton. Fenton has been proving his dominance this season, and he continued to prove himself claiming his first HOIC championship. Fenton pinned his first two opponents in 1:04 and 2:37, respectively. Fenton faced Joe Hovic of Roland-Story in the finals, and he won by technical fall in 4:48 with a dominating score of 16-1.
Next was another hammer for the Mustangs. Sophomore Payton Drake has made his mark in the 113-pound weight class, continuing to climb the rankings. Drake sealed his second conference championship, having byes to the finals and winning by fall over North Polk's Ryan Davidson in 5:06.
Senior Caleb Peter took over the 120-pound weight class after freshman Brian Nicholson suffered a season-ending injury at Centerville on Jan. 13. Peter went 2-2 on the day taking fourth place and adding two falls to his career.
Junior Clay VanWyk also finished in fourth place, going 1-2 on the day in the 126-pound weight class. Also going 1-2 on the day was 132-pound freshman Mason Shirk. This was Shirk's first varsity tournament, and he earned a fifth place finish.
Junior Cody Wallace also earned fifth place wrestling in the 138-pound weight class. Wallace was 2-2 on the day. Freshman Connor Bennett made his varsity debut in the 145-pound weight class, going 0-2 on the day with tough competition. Bennett took the place of freshman Colby Tool who is facing a minor injury from the PCM versus Collins-Maxwell dual on Jan. 18. Tool should be back by postseason competition.
Wrestling at 152 pounds was senior Drew Johnson. Johnson came off of an exciting senior night win on Jan. 18 against Saydel's Trent Stephenson. Johnson saw Stephenson again in the third place match up, and he prevailed again winning by fall in 3:29. Johnson was 3-1 on the day, finishing in third place; this is the highest Johnson has placed at a varsity tournament.
Junior Wes Cummings pinned his way to the 160-pound conference championship, claiming his second HOIC first-place finish. Cummings was 3-0 on the day with his longest match being a fall in the finals with a time of 1:18 over Gilbert's Aiden Carr.
Junior Lucas Roland had a similar fate as Cummings in the 170-pound weight class. Roland was 2-0 on the day, and he claimed his second HOIC championship in just 28 seconds over Brock Wuebker of Greene County.
Junior Jarron Trausch had a bye in the quarterfinals and a pin in the semifinals where he qualified to wrestle for first place against Trevor Sprague of Saydel. Trausch prevailed by decision, 10-3. This was the first time the two faced off this season, but they will possibly meet again at the District qualifying meet on Feb. 10.
Senior Noah Anderson wrestled at 195-pounds, and he was 2-2 on the day. Anderston finished in fourth place. Senior Jacob Ponder wrestled in the 220-pound weight class, going 0-2 on the day to finish in sixth.
Sophomore Jace Smith had a strong day in the heavyweight division. Smith had a bye in the quarterfinals, and he pinned Roland-Story's Michael Schiermeister in 1:41 in the semifinal round. Smith made his first appearance in a finals round against Greene County's Joseph Anderson. Smith sealed his very first varsity tournament win as the HOIC 285-pound champion by fall in 2:40.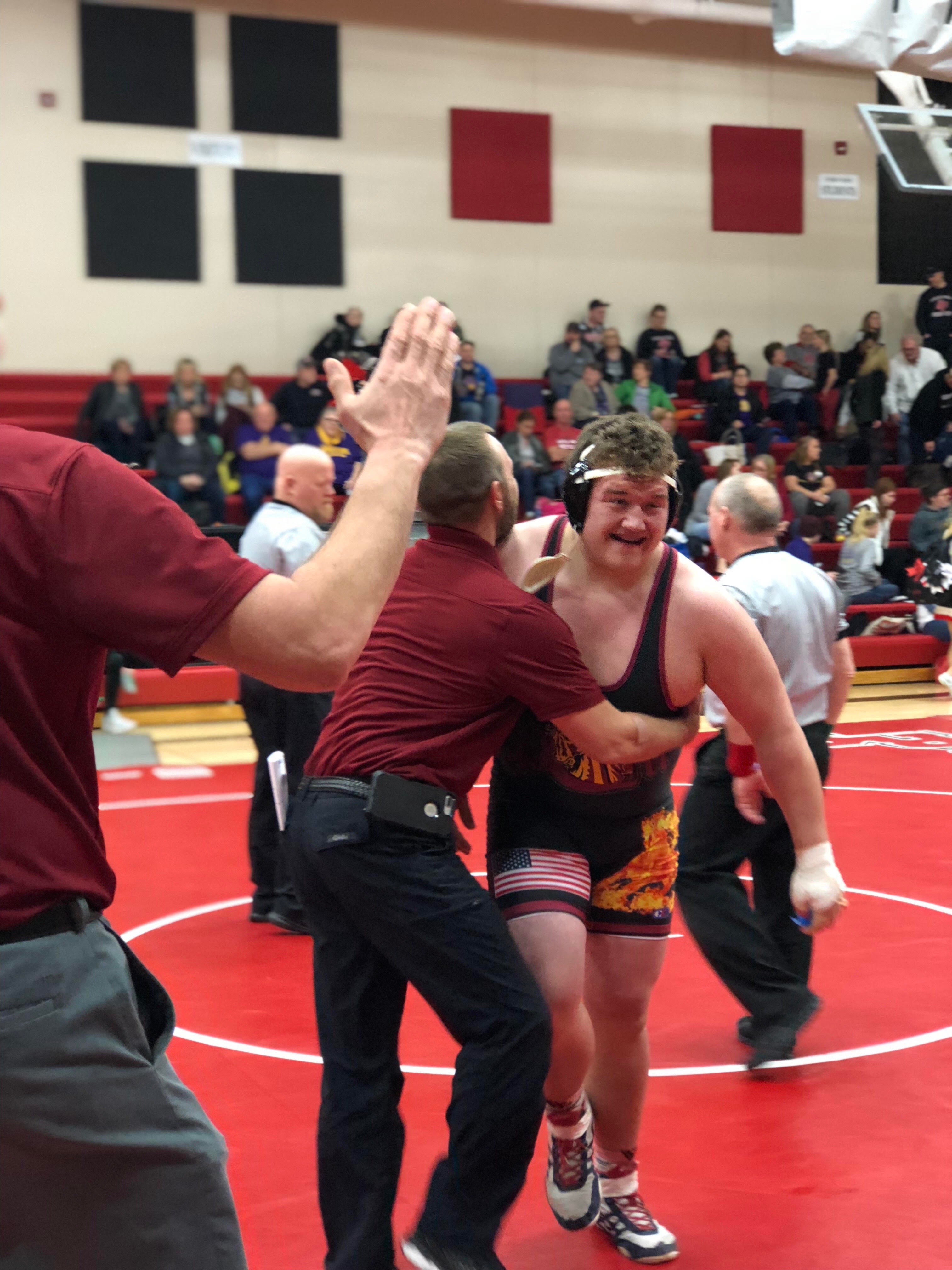 "I just knew that I needed to win the match. I knew that this opportunity doesn't come around often. It feels great to be at the top just because it's been rough all throughout the season, and it feels nice to be on the good side," Smith said.
The next competition for the Mustangs is tonight, Jan. 25 at Colfax-Mingo High School. PCM will wrestle a quadrangular against Twin Cedars, BGM, and Colfax-Mingo beginning at 6 p.m.