PCM Wrestlers dominate Senior Night
by Caleb Peter
The PCM wrestling team held their last home meet on Jan. 18. They faced Saydel and Collins-Maxwell. The evening started with a recognition of seniors. It was the last home meet for senior wrestlers Chase Shirk, Jacob Ponder, Caleb Peter, Drew Johnson, Brady Fagen and Noah Anderson, and managers Darian Drake and Kinsey Phipps. Once it was done, the pep band played the Rocky Balboa theme song to hype the wrestlers up
The entire gym was dark except for the bright spotlight over the mat. It made for an electric setting. PCM went first against Saydel. First up was junior Kaeden VanSoelen receiving a forfeit. Junior Wes Cummings at 170 lbs took another forfeit. This was Cummings' 100th win. At 182, junior Lucas Roland won his match by decision, 11-4. Junior Jarron Trausch then took a forfeit at 195. Senior Noah Anderson lost his match by fall in 1:33. Sophomore Jace Smith took a forfeit at 285. 
Freshman Landon Fenton took a forfeit at 106 and sophomore Payton Drake at 113 pounds defeated his opponent, scoring 10-2. Senior Caleb Peter wrestled varsity for 120 for the first time this year since freshman Brian Nicholson broke his leg at the Centerville tournament on Jan. 13. Peter beat his opponent with a score of 8-3. At 126 and 132, junior Clay VanWyk and freshman Mason Shirk both took forfeits, respectively. These were Shirk's first ever varsity points. Shirk's older brother, senior Chase Shirk, was out due to an injury. At 138, freshman Colby Tool pinned his opponent in 1:37. Junior Cody Wallace, 145, lost 4-0 to his ranked senior Klayton Keller. 
At 152, senior Drew Johnson had the last match against Saydel. It was the closest match of the night. In the last minute, Johnson was in bottom position and losing 4-3. Johnson needed to escape to go into overtime or get a reversal to win. In the very last three seconds of the match, Johnson earned a reversal and scored two points right as the last second was counted. The score was 5-4. Johnson won, and the crowd of PCM roared with excitement. PCM defeated Saydel 61-9.
Johnson was grateful for the win. "It was gratifying I'd say. The hard work pays off. Because of just the extra work in the room and extra work in practice, I came out with a win."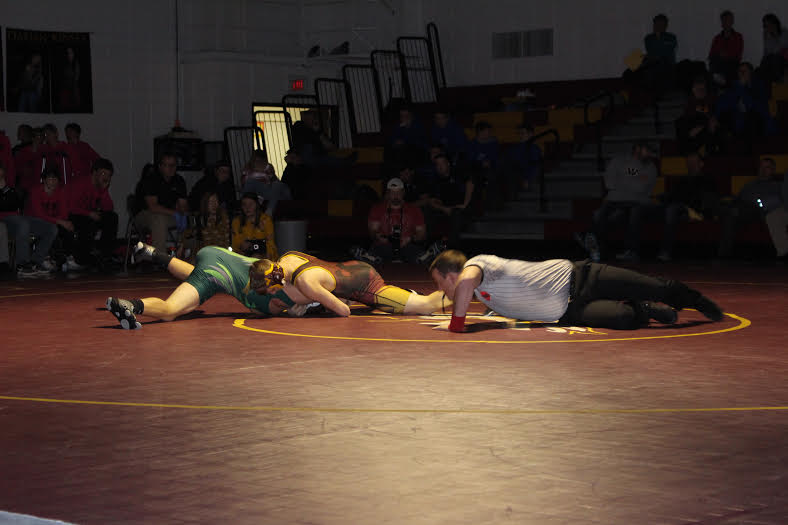 The Mustangs faced the Collins-Maxwell Spartans next. There was no way that the Mustangs could lose, because Collins Maxwell had only four wrestlers, and PCM had a full line-up.
The whole team received forfeits except for Trausch, Ponder, Fenton, and Tool who all had matches. Trausch won by fall in 1:43, Ponder won by fall in 2:26, and Fenton won by fall in 1:51. Tool lost to his opponent due to an injury. The meet ended, and PCM won with a whopping 78-6.
The season has been overall very successful for the team and is reaching its peak. The team will truly be tested in the weeks to come. The wrestlers are getting ready for postseason competition starting Feb. 3.