Six finalists, three champions; 'Stangs second at SEP
by Kinsey Phipps
Competing in the Red Owens Holiday Classic was important for PCM head coach Jeff Nicholson. The tournament held at Southeast Polk High School is in honor of their late coach, Red Owens. Owens was Nicholson's wrestling coach when he was in high school, so Nicholson knew he wanted his wrestlers to participate in the annual tournament honoring the man who meant so much to him growing up. The PCM grapplers headed to the Red Owens Holiday Classic on Dec. 16, and they finished in second place out of 11 teams.
The tournament had three rounds of pool play before placing wrestlers into respective brackets. Starting off the day was 106-pound freshman Landon Fenton. Fenton had a bye round one and two of pool play, and pinned his opponent in 53 seconds during the third round. In bracket play Fenton pinned his way to the finals, winning by fall in 1:07 and 41 seconds, respectively. In the finals, Fenton wrestled freshman Ayden Kingry of Southeast Polk. Kingry came out on top, winning by decision, 7-4. Fenton took home second place for the 'Stangs.
Next was sophomore Payton Drake. Drake has proved his dominance this season, having a record of 14-2 going into the tournament. Like Fenton, Drake had two byes in pool play before pinning his first opponent in 1:27. In the quarterfinals, Drake won by fall in 57 seconds. In the semifinal round, Drake had a tough opponent: Jake Nieman, a sophomore from Battle Creek-Ida Grove High School. Nieman is the 2A No. 4-ranked wrestler in the 113-pound weight class. Drake is currently ranked 10. 
"I heard [Nieman] was ranked, and I was confident I could come out with the win. Going into the third period I was up 6-2, and I just fought through the pain to come out with the win," Drake said.
It was a well-fought match on both ends, but Drake prevailed winning by decision, 6-3. Going off of this huge win, Drake wrestled senior Anthony Long from Plattsmouth, Nebraska. Again, Drake defeated his opponent by decision, 4-2, taking the 113-pound championship.
Freshman Brian Nicholson had arguably the most difficult weight class, going 0-4 on the day. Although B. Nicholson did not claim a victory of his own, he got the privilege of wrestling and learning from some of the best in the state including 2A No. 1-ranked junior Aden Reeves of Albia and 3A No. 4-ranked senior Koby Pritchard of Southeast Polk.
Junior Clay Van Wyk had an off day in the 126-pound weight class going 0-4, as well. Senior Chase Shirk went 2-2 on the day, losing his first round of pool play and his first round of bracket matchups. Shirk prevailed in his second round of matches, though, winning by fall in the consolation round. Shirk then earned fifth place, defeating junior Brock Bashus of Plattsmouth, Nebraska by decision, 7-0, in placing.
Colby Tool wrestled in the 138-pound weight class for the first time this season. The PCM freshman has proved to be a force to be reckoned with, having a 17-1 record before the Red Owens Classic. Tool finished in second place at the tournament, going 4-1 on the day. In the finals, Tool fell to junior Nathan Marchand in a neck-and-neck decision, 5-4.
Junior Cody Wallace wrestled at 145 pounds. In pool play, Wallace pinned his adversary in overtime with a time of 7:20. Wallace pinned his next opponent in 1:16, but lost by technical fall in the semifinals to 3A No. 1-ranked Cade DeVos of Southeast Polk. Wallace wrestled for third place, but he fell to junior David Morris of Albia; he took fourth for the Mustangs.
Senior Drew Johnson had a tough day, going 0-3 in the 152-pound weight class. Junior Wes Cummings pinned his way to the 160-pound championship, pinning all of his adversaries of the day. Cummings' fastest fall was 16 seconds.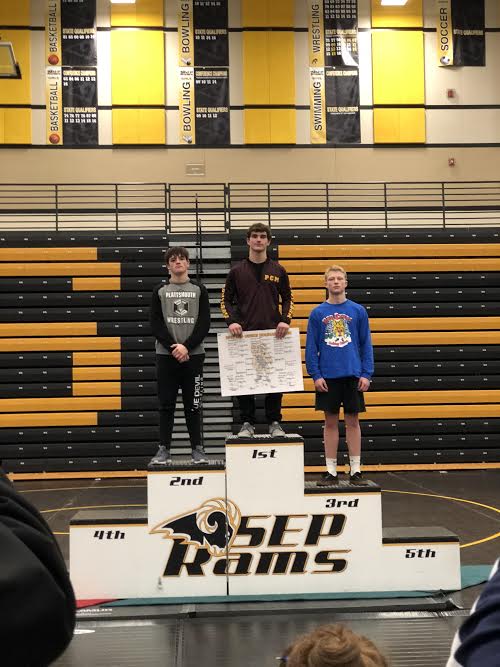 Junior Lucas Roland has been undefeated this season, having a 15-0 record before the tournament. Roland pinned his first two opponents with ease. Going into the finals, Roland was confident. It was a neck-and-neck match with senior Thaddeus Breitsprecker of Southeast Polk. It was 1-1 going into the third period, and Roland earned a takedown within the final 10 seconds. The two scooted out, and Roland made a decision that would cost him the match. Roland cut Breitsprecker, giving him an intentional escape with four seconds left. In those four seconds, Breitsprecker took down Roland to win the match by decision 4-3, giving Roland his first loss of the season.
Junior Jarron Trausch had a successful day, pinning his way to the 182-pound championship like Cummings. In the finals, No. 6-ranked Trausch wrestled No. 9-ranked senior Ben Mason of Albia. Trausch pinned Mason in 5:10. The two will see each other again in 2018 for the sectional qualifying tournament.
Junior Dalton Schlangen wrestled his first matches of the year. He wrestled at 220 pounds for PCM, but he couldn't log a win. Schlangen went 0-3 on the day.
Sophomore heavyweight Jace Smith had a tough bracket, as well. Smith went 0-4 on the day, but he wrestled and learned from some of the best in the state such as B. Nicholson did. Smith went up against No. 1-ranked 2A heavyweight senior John McConkey of Atlantic and No. 1-ranked 3A heavyweight senior Caleb Sanders of Glenwood.
With four ranked teams at the Red Owens Classic (3A Glenwood, 3A Southeast Polk, 2A PCM, and 1A Underwood), PCM proved they could hold their own. PCM scored 201.5 points, with Southeast Polk being the only team to top the 'Stangs with 288.5 points. Glenwood came in third with 164 points.
PCM looks forward to continue their dual dominance tonight, Dec. 21, at Solon High School for the Solon Duals beginning at 4 p.m.