Mustangs defying odds at Ankeny Centennial Duals
by Kinsey Phipps
Heavy competition awaited the Mustang grapplers as they headed to Ankeny Centennial High School for a dual tournament on Dec. 10. Being a tournament filled with many 3A schools, PCM has not had the best results in the past. But today, the 'Stangs were hungry for some wins; wins are what they got. No. 9-ranked 2A PCM went 3-2 on the day, defeating 2A No. 2-ranked Ballard, 42-39.
The first meet of the day was against Ankeny Centennial. PCM fell to the Jaguars, 51-22. The Jags had seven falls, one forfeit and one decision in their favor. Next, PCM wrestled Dallas Center-Grimes, coming out on top 45-28. The Mustangs had seven pins and one decision in their favor. Immediately after, PCM faced the Carlisle Wildcats. The 'Stangs defeated the 'Cats, 57-21. PCM had eight falls, one forfeit and one decision in their favor. This sealed PCM's fate, taking second place in their pool. The 'Stangs wrestled against Dubuque Hempstead in the semifinals, with the winner facing Ankeny Centennial for the championship and the loser facing Ballard for third place. PCM fell to 3A No. 7-ranked Dubuque Hempstead, 42-28. Dubuque Hempstead had five pins, one technical fall, one major decision, and one decision in their favor.
Individual highlights of the day begins with junior Lucas Roland who went 5-0 on the day, continuing his 12-0 undefeated season record. Freshman Colby Tool has proven to be a force to be reckoned with, remaining 5-0 on the day and calculating only one loss on the season to a 3A No. 2-ranked Deville Dentis of Des Moines East at the Dallas Center-Grimes Invitational. Continually, senior Chase Shirk, juniors Wes Cummings and Jarron Trausch, sophomore Payton Drake and freshman Landon Fenton went 4-1 on the day. Shirk, Cummings, and Drake all lost to 3A ranked wrestlers. For Shirk, it was No. 9-ranked Max Tracy of Dallas Center-Grimes. Tracy defeated Shirk in a hard-fought 8-3 decision. Cummings fell to No. 10-ranked Logan Neils of Ankeny Centennial by decision, 10-5. Finally, Drake faced No. 2-ranked Dillon Gottschalk of Dubuque Hempstead. According to rankings, Drake should not have come close to defeating Gottschalk, but he fought hard losing by mere points. The final score was 7-3, Gottschalk.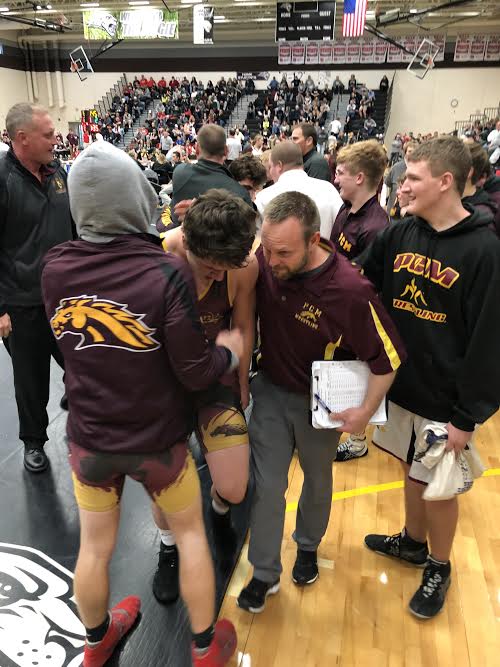 No. 9-ranked PCM knew they had a fight ahead of them when they wrestled No. 2-ranked Ballard for third place. Ballard had an early lead, claiming a forfeit at 220 pounds and fall over sophomore Jace Smith at heavyweight. PCM came back, with 106-pound Fenton claiming a forfeit and Drake pinning his opponent in 51 seconds. The score was tied 12-12 after the first four matches. The match continued to go back-and-forth. At 120 pounds, Ballard's wrestler pinned freshman Brian Nicholson and claimed a forfeit at 126 pounds. Shirk pinned his 132-pound adversary in 3:10, but Ballard earned a technical fall in the 138-pound weight class. PCM was falling behind with a score of 30-18 Ballard. The 'Stangs knew they had to fight if they were going to win this dual. Tool pinned Ballard's 145 pounder in 3:53. Ballard excelled in the 152-pound and 160-pound weight class with a fall and a technical fall, respectively. Going into the 170-pound weight class, PCM was down 39-24. The last three boys were all wrestling up a weight class than what they were used to, and Cummings, Roland, and Trausch all needed to pull off wins with bonus points in order for the Mustangs to win the dual. Cummings got the job done, pinning his adversary in 36 seconds in the 170-pound weight class, making the score 39-30 Ballard. Next was Roland who had a tough match against No. 2-ranked, 182-pound Ben Lee of Ballard. Rankings and weight didn't faze Roland, as he pinned Lee in a mere 52 second. The exciting win brought PCM to creep up on Ballard with a score of 39-36. The last match was Trausch against 195-pound Joe Andrews of Ballard. A win by decision from Trausch would have tied the match, so he needed at least a major decision to win. In an exciting and hard-fought match, Trausch pinned Andrews in 3:41. This signified PCM's victory 42-39, defeating one of their toughest 2A dual opponents of the season.
The next competition for the Mustangs is tonight, Dec. 14. PCM will wrestle their second conference quadrangular against Roland-Story and Gilbert at Gilbert High School. Wrestling begins at 6 p.m.