History-making XC season ends
by Ashley Miller
"I think we all just need to relax, take a deep breath, and just enjoy it. We've worked hard all season and our third place finish at districts just shows all that hard work," junior Kirstin Ives said before the State meet. "I think our bodies are ready, all we need to do is make sure our head and our hearts are in it. We have to be mentally tough because it's going to be cold and tough."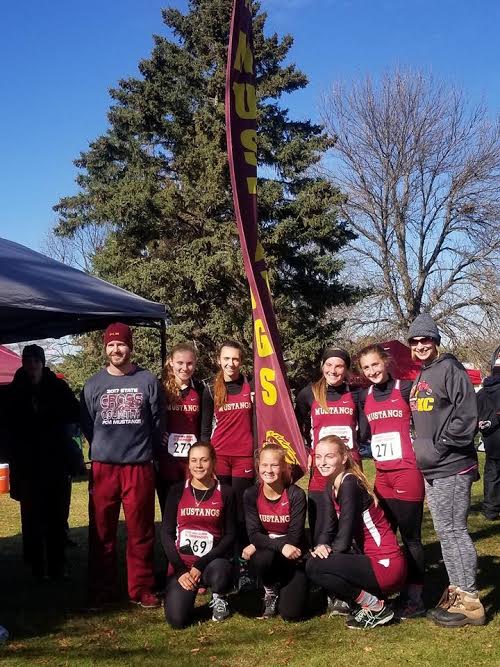 Cold was right. With the temperature just barely 40°F, the State race at the Lakeside Golf Course in Fort Dodge on Oct. 28 was going to be a hard one. PCM placed 15th overall as a team with 356 points. Mid-Prairie, Wellman took home the team title and first and second place individual titles with sophomore Marie Hostetler and senior Anna Hostetler finishing with times of 17:51.2 and 18:06, respectively.
"I'm just honored that they took me along for the ride," Head coach Eric Karr said. "They have given me one of the greatest memories of my life, and I will never forget this season. They work so hard and truly believe in themselves, so they deserve all the credit. Obviously last place isn't what we were hoping for. We went in with the mindset that anything can happen and top ten is a realistic possibility. You know, just four seasons ago we were last place at our conference meet. So, last place in the state meet this year is something that I'm extremely proud of, and I hope the girls are too. The girls actually ran really well. Klaire ran a lifetime PR, Ellie ran a season PR, and every other girl was really close to her PR. It's just really hard to complain about performances like that."
Junior Kirstin Ives was the first finisher for the Mustangs with a time of 21:33.4. She placed 44th out of 105 runners. Senior Baylee Smith was next with a time of 22:00.4, placing 60th.
"I knew I wasn't there to win; I was there to try my best and have a great time," Smith said. "I have been dreaming about [going to the State meet]  since freshmen year, and it felt great to finally achieve that goal."
Sophomore Klaire Jungling and junior Paytan Schut finished side by side with a time of 22:50.7, placing 82nd and 83rd, respectively. Junior Megan Townley wasn't too far off in 87th place with a time of 23:09.2. Senior Ellie Steenhoek and junior Morgan Uhlenhopp were the final two finishers for the Mustangs with times of 24:35.5 and 25:14.8.
"I just want to girls to take some time to look back and reflect. They did something that has never been done at PCM before," Karr said. "They did something that no one will ever be able to take away from them. They did something that they had dreamed about for a long time. Sometimes it takes years to happen, but hard work pays off. It's that way in life, too."
The history-making season may be over, but it definitely won't be forgotten anytime soon. Smith gave some advice to incoming freshmen runners and those returning next season:
"Always be focused on your team. The only time I cared about my time or my placing is when I thought about how it would affect my team. When you focus on your team and try to be your absolute best for them then you will improve yourself without even realizing it. Having a great team of girls behind you and focusing on doing everything for them feels about a million times better than doing it yourself."