Mustangs overpower Chargers
by Olin Meinders
After the Mustang's freshman football team picked up a quality win against the Chariton Chargers' Freshman Sept. 29, the varsity looked to do the same. A dominate win was expected out of PCM after beating Centerville and Central Lee. Centerville, who beat Chariton by 28 a week before, lost to the Mustangs earlier in the season 74-14. The Mustangs started off shaky but pulled through to get the win, beating the Chargers 42-14.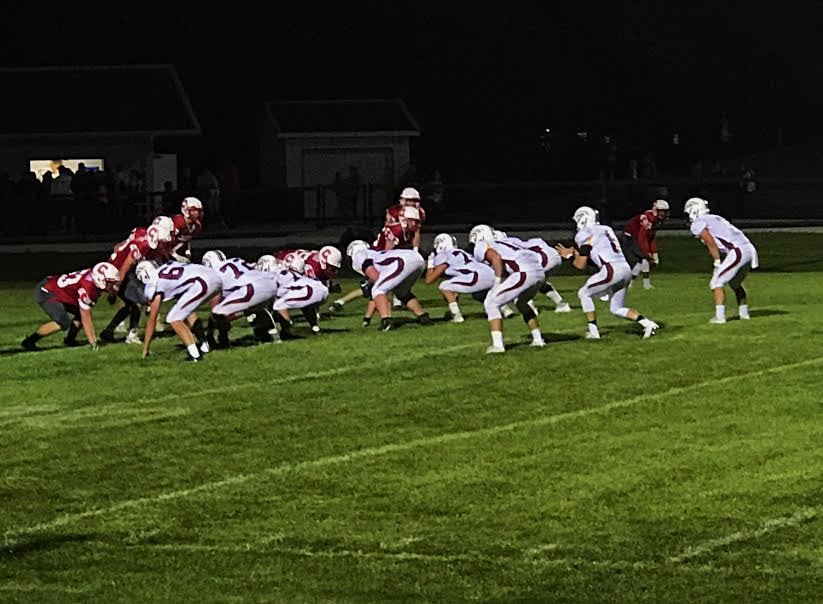 PCM started off the game in a very unusual fashion, being forced to turn the ball over on downs not one but two consecutive times.
"That hadn't happened this season before. I was very surprised," junior Nick Buswell said.
Many of the Mustang players were not anticipating such a slow start. Another rarity occurred in the first half when junior Reed Worth threw an interception for the first time since week one against Pella Christian. Flags were also a constant during the game, hurting the Mustangs on a number of occasions.
The first score of the game came from an 11-yard touchdown pass from Worth to junior Isaac Telfer. The Mustangs spent very little time getting back into the end zone. After forcing Chariton to punt, Worth connected to junior Jarron Trausch for 20 yards. Junior Wes Cummings then ran 54 yards on a sweep to put the Mustangs two scores up. The second quarter went much smoother than the first, and by halftime the Mustangs were up 35-0.  
PCM scored once more after halftime to extend the lead to 42. With the back ups in for the rest of the game, Chariton's offense was finally able to score. Still keeping in most of their starters, Chariton scored two touchdowns against the PCM back ups. When the game was over, the scoreboard read 42-14, another Mustangs victory. Worth finished the game with 215 passing yards, three touchdowns, and one interception. Worth showed great accuracy in the game, completing nearly 80 percent of his passes. Cummings ran for 148 yards on just seven carries and had two total touchdowns. Senior Noah Anderson scored in three different ways, catching a pass for a touchdown, rushing for a touchdown, and returning a punt for a touchdown. Junior Chance Palm lead the team in tackles, recording six for the night.
PCM's homecoming game will be tomorrow against the Rockets of Eddyville-Blakesburg-Fremont. Kickoff will be at 7:30 p.m.