Cross country Senior Night success
by Chance Palm
On Sept. 21, the Mustang cross country team hosted the first and last meet at home to run in the scorching heat on senior night. The Mustang cross country boys' team competed against nine other teams, and the cross country girls ran against seven.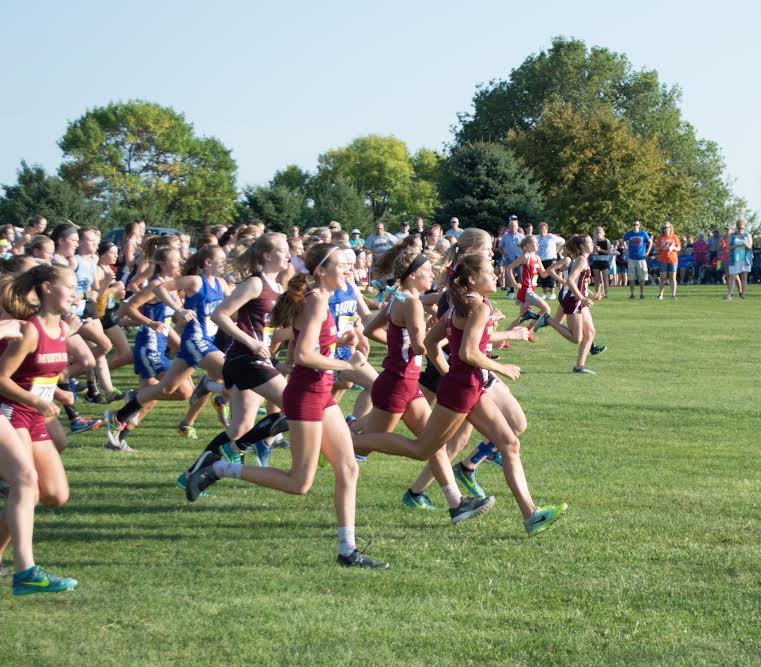 For the boys, Des Moines Christian arrived in first place, Pella Christian came in second, and the Mustang boys came in seventh. Sophomore Jason Stafford was the fastest among the cross country boys' team runner, coming in sixth overall with a time of 19:24.
Stafford said, "I feel like the meet went very well. The girls and guys both ran very well as teams considering the course and heat. I was very proud of the team."
For the Mustang girls, the team came on top and took first place, with Knoxville and Davis County taking second and third, respectively.
On the girls' performance, head coach Eric Karr said, "The girls won their third meet of the year. Last year they only won two meets, so this year has been exciting. They won our home meet last year for the first time since I've been coaching, and they knew they had to ability to do it again this year. They had to push through the heat, and they didn't really look great physically. I very seldom give water to runners during a race, but it was needed on Thursday. There were times I could tell their bodies wanted to quit, but they are way too strong mentally."
The fastest time for the Mustang girls was junior Kirstin Ives who ran a time of 22:32 and took fourth place overall. The next cross country meet is planned to take place tonight, Sept. 28..
Karr said, "I think the rest of the season looks promising. We haven't had many PRs lately; a lot of that is due to the heat and the incredibly difficult courses. Practice times have been outstanding. I think with some cooler weather, both teams are ready to drop really really good PRs."