Mustangs make Big Reds finish in the Red
by Jacob Ponder
On Sept. 15, the Mustangs played the Centerville Big Reds in Monroe. Going into the game, PCM was 2-1 and 1-0 in district play. The Mustangs marched over the Reds as they win by 60, with a final score of 74-14.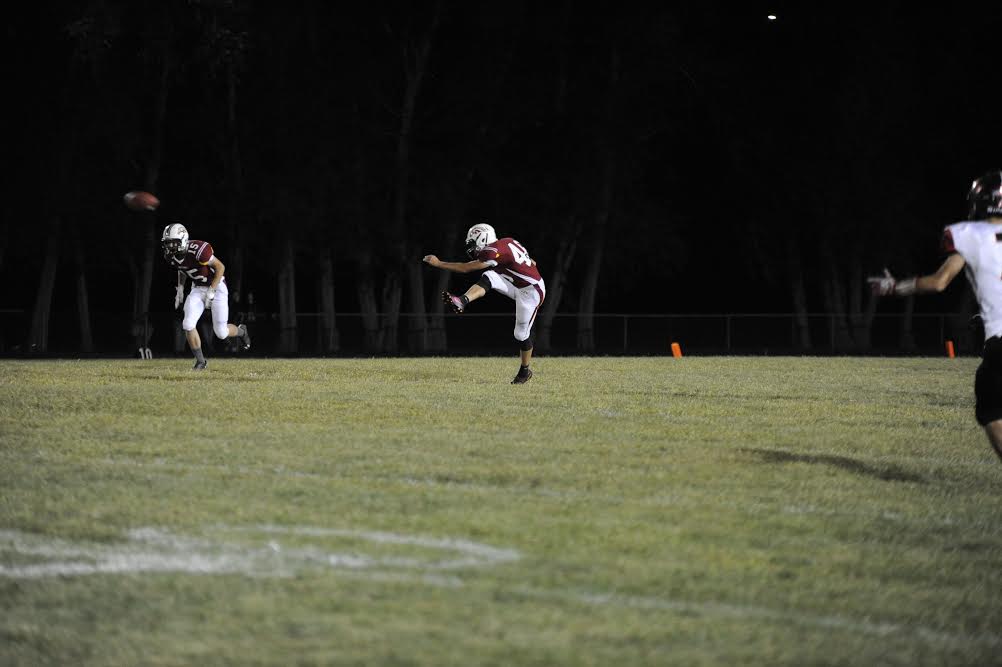 Senior defensive tackle Jacob Woody said "I think it went pretty well. There's certain things we can improve on though. The defensive line played pretty well. The turning point in the game was more towards the second quarter when we really starting to get going."
PCM's game against the Centerville Reds began in an unorthodox fashion with an onside kick to start the game. Junior Brycen Rogers recovered senior Brady Fagen's kick. The first two plays for the Mustangs resulted in major negative yards. On the third play, a minute and a half in, junior Reed Worth found junior Preston Van Wyk deep down the field for the Mustangs' first touchdown of the night. Centerville answered on their second offensive drive. PCM rallied on their next drive with junior Wes Cummings running for a touchdown. At the end of the first quarter, the Mustangs had a small lead, with the score 14-7. On one of the first plays of the second quarter, Cummings scored his second rushing touchdown of the night. Junior Cole Dustin recovered a fumble, and junior Jarron Trausch ran for a rushing touchdown the following play. On the next drive, Worth walked into the endzone putting the Mustangs up by 27. Senior Noah Anderson ran for another Mustang touchdown. Right before the end of the half, the Big Reds scored for their second time, making the score 40-14.

During the second half, the Mustangs continued their familiar theme of running the game. The Mustangs score five more times making the final score 74-14. The second to last touchdown was a pass from freshman Sage Burns to senior Chase Sanders. Burns also had a rushing touchdown to end the game. The last freshman to score a touchdown was Wes Cummings who earned  third team All-State honors his sophomore year in 2015.
Senior offensive tackle Caden Lewis said, "I think the game went pretty well. It took us a little bit to get our feet set in the beginning. We'll get everything squared up for Central Lee on Friday [Sept.22]. To get ready for Central Lee, we need to touch up some things in practice this week like our special teams and our penalties. Once we get that squared away in practice, we'll be ready."