Grett takes over journalism, yearbook, English, "pens"ively
by Kinsey Phipps
"My favorite part about teaching is when I see a student who has been struggling with something, and they get that look on their face when they start to understand. It is so rewarding to see my students becoming successful in class and in life," English teacher Mrs. Brooke Grett said.
Last school year, PCM had a hard time finding a steady teacher to take over the newspaper, yearbook, English 9 and British literature classes. This year, however, Grett eagerly stepped in to fill that role.
Grett graduated from Panorama High School in 2007, and she proceeded on to Iowa State University where she graduated with a major in English Education with an endorsement in speech/theatre and reading in 2011.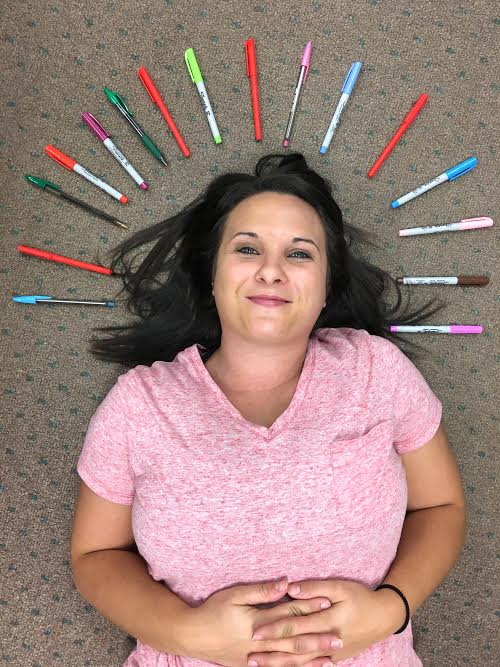 PCM is the fourth school Grett has taught at; as a result, she has taught almost every segment of high school English there are: English 9, 10, 11, 12, DMACC (Des Moines Area Community College) communications course, speech, drama, modern literature, creative writing, journalism, yearbook, website, AP Language, and british literature.
"Because this is the fourth school I've worked for, I've gone through a lot of change. I don't think that is a bad thing at all, though," Grett said. "I've learned so much at each school and use the practices I've learned on a daily basis."
At this time last year, Grett was living in Grand Junction, Colo. She taught at Grand Junction High School for a year, then she moved to a nearby district where she taught at Palisade High School for two years.
"My family and I have always loved Colorado; we knew we wanted to live there at some point. My brother also lives in Grand Junction which is why we picked that area. We loved waking up to the mountains, camping, hiking, and my husband loved to go mountain biking. One of my favorite things was the drive to and from work," Grett said. "Our town was in a valley, so we were literally surrounded by mountains. It was so beautiful every direction you looked. I definitely miss the mountains and the weather."  
Grett's family decided to move back to Iowa in order to be closer to family. It was important for their two small children, ages four and two, to be raised around their grandparents.
Grett said, "There was just something about Iowa that we missed. People always joke about moving back to corn fields, but there really is something about the way the sun rises and sets over a corn field. It is beautiful, and it is home."
Moving back to Iowa meant finding a job at a new district. Grett found PCM, and she gained segments of yearbook and journalism to take over after a rocky previous year.
"There's always a bit of a challenge when you are new to the district and picking up a journalism and yearbook program because there are always differences. However, I feel that I can bring a lot to the school and both these programs," Grett said. "I'm already feeling comfortable at PCM, and the staff here is very helpful whenever I have a question."
Grett is looking forward to many things this year at PCM.
"Mainly connecting with students and staff and being able to see the outcome of my teaching here at PCM. Whether that is better writing and reading skills from my students or some awards and recognitions for my journalism and yearbook students," Grett said.
Grett is settling into the Prairie City-Monroe community well, and she has been attending sporting events to support her students. The school district is welcoming her with open arms, eagerly awaiting what she will do with the English programs here at PCM High School.
"My best advice to students would be to stay positive. Not every day is going to go your way. It's okay to not get things right, that's how we learn," Grett said. "If everyone was perfect and no one ever made mistakes, well that would be a pretty boring world."