Welcome back, Mustangs
by Bradley McClellan
Welcome back, Mustangs. Students may be feeling sad, angry, miserable and empty, but don't worry, these feelings are completely normal. On the other hand, there are some very abnormal things happening this year at PCM. There has been construction in most schools, classes are bigger than usual, and the music department has brand new teachers.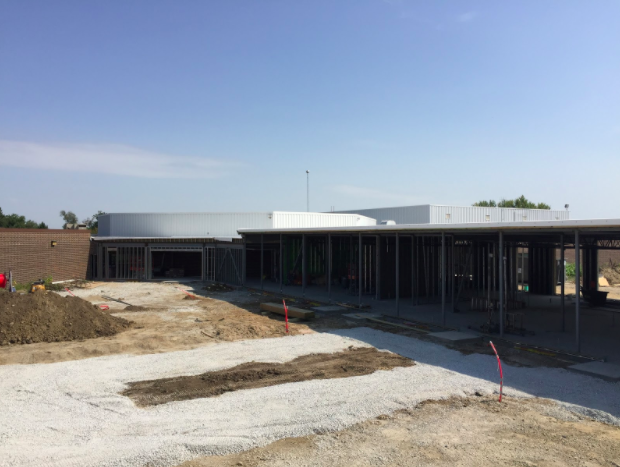 The most notable of all these changes is the construction taking place in multiple schools. The middle school has the most renovations, with three newly renovated classrooms, a refurbished library/media center. This is scheduled to open Monday, Sept.18th. The auditorium is currently under construction. It will have a higher seating capacity, slightly larger stage, and a new sound-proof  technology booth. The space will be finished around October, just in time for the high school's fall play. Another addition is a link between the middle school and Prairie City Elementary. The link will have a main office for both secretaries and smaller offices for the principals, counselors, and nurse. The link will also have a conference room along with two new classrooms towards the elementary side. The elementary also has new windows throughout the entire building, along with new blinds.
At Monroe Elementary, a new heating and cooling system was installed. There are also two newly renovated special education classrooms, along with two completely updated bathrooms and a newly installed secure entryway. There is now a set of double doors that can only be opened by the secretary before visitors can enter the rest of the building. New lighting has been installed in the library and classrooms along the upper elementary corridor. Finally, there is a new nurse's office across from the secretary's office.
Another out-of-the-ordinary occurrence going on at PCM right now is the amount of twins in the freshman class this year. Believe it or not, there are six sets of twins in the freshman class, their names are: Hayden and Gage Holliman, Greyson and Kaeden Strum, Kinser and Cooper Sloan, Adam and Benjamin Kramer, Grant and Kyle Landgrebe, and finally Carson and Caleb Duinink. Wish the teachers good luck telling all these twins apart.
We have also had a change in the number of students at the high school. Last year a relatively small class graduated, and a big class came in this year. This brought the number of students from 325 to 345. This change may seem small, but a large freshman class means that their classes are almost full. Classes like physical science are at maximum capacity. A lot of students have noticed how big lunches have gotten, too. In fact, the high school had to order two more tables to accommodate. Unfortunately, the school can't add parking spaces as easily as tables, so they've run out. Who wants to ride the bus?
The music department has gone through some change, as well. The old high school band teacher, Ben Varner, moved to the middle school and Louis Dupuis took over his position as high school band director. We also have a new chorus teacher, Chloe Peterson, replacing Rocco Contini. Even with all this change the music directors are leading very well. Although there has been a lot of change, students and teachers alike are seeming to settle into the schedule for another great year at PCM.