Mustang's offense tramples Blue Demons
by Olin Meiders
The Mustangs came into week three of their 2017 football season with a 1-1 record having only played a single game. Even without playing week two, the Mustangs were able to easily dominate the Blue Demons, beating them 61-6.
Albia initially appeared to play strong, taking senior Brady Fagen's opening kick to the 50 yard line. The Mustangs' defense started to push back with a sack after allowing the 45-yard return and two first downs that included some hard runs by the Blue Demons. An Albia fumble caused by junior Jarron Trausch and recovered by junior Brycen Rogers on a fourth down would turn the ball over to the Mustangs, who didn't take very long to put the first points on the board. Junior running back Wes Cummings scored with a 67-yard run on the first offensive play of the game for the Mustangs. A failed extra point attempt left the score at 6-0, PCM. However, Albia returned the favor and tied the game with a 70-yard touchdown pass and an extra point attempt which was by senior Jacob Ponder. The Mustangs' offense continued to take charge and regained the lead with a pass from junior Reed Worth to junior Isaac Telfer good for 40-yards and a touchdown.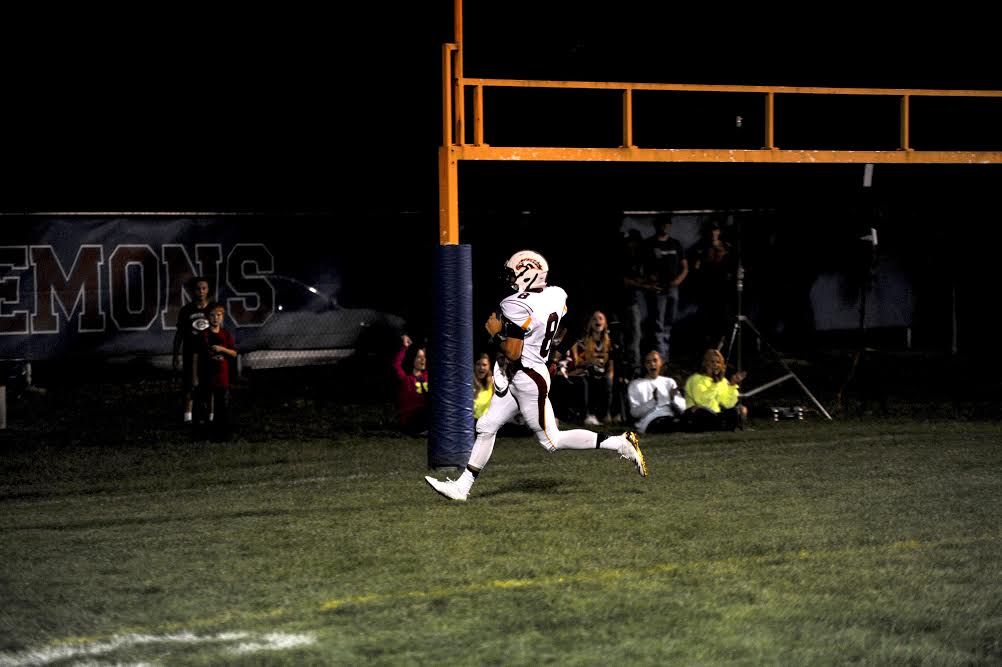 "I feel like I am getting more and more comfortable as the season goes on with the offense, but it's not like it's anything new to me. I have been in this system for three years now. Coach Harrison has been great with teaching me new plays and making sure that I am comfortable and understanding what is happening," Worth said, who had an impressive outing for the night, finishing with five total touchdowns.
The Mustangs offense exploded in the first half after the first few drives. By the end of the first quarter the score was 27-6. It was already clear who was controlling the game. The Mustangs kept the same pace and scored another 27 points in the second quarter. The score going into halftime was 54-6.
With starters not playing, the score would stay the same the entire third quarter. The only score by either team in the second half would come in the fourth quarter. A three-yard touchdown pass from freshman Sage Burns to sophomore Dane Owens increased the Mustangs' lead to 51-6.
Leading PCM in rushing was Cummings with 97 yards on six carries with two touchdowns. Cummings also had 50 receiving yards and a receiving touchdown. Five different Mustangs players had a receiving touchdown. The leading receiver was junior Brayton Van Dyke who had 60 yards on two receptions and a touchdown. Leading the defense was Trausch, totaling eight and a half tackles, four being for loss.
The next game for the Mustangs will be tomorrow night at home against Centerville.
The opening kick-off will be at 7:30 p.m.