PCM girls track returns District Champions; nine events to State
by Ashley Miller
Three track seasons have passed since the PCM girls' track team have won the district title. On May 11, the Mustangs did it again. They finished with 111 points in first place; three points separated them from Mid Prairie. Six events automatically qualified for State while three more got in on times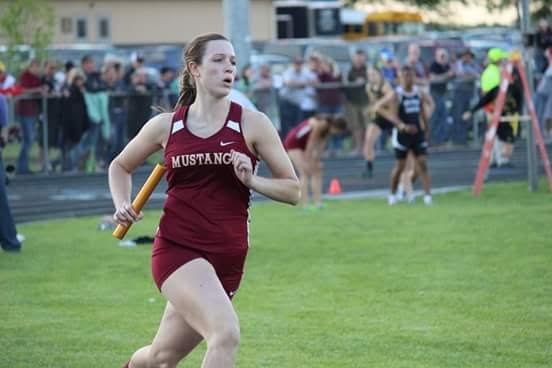 "Tonight's district championship was a total team effort, and we couldn't be more proud of our girls," Head Coach Bridget Martin said. "They have worked so hard all season and are extremely deserving of the title. I couldn't think of a more fitting way to end our regular season. Our seniors have been great leaders all season and were a huge part of our success this evening."
Only one event finished first. The 4×400 team of senior Rachel Stafford, sophomore Paytan Schut, freshman Sierra Foster and senior Jayci Vos finished with a season best time of 4:10.62. The seventh fastest qualifying time. 
Vos, Schut and Stafford joined sophomore Kirstin Ives for the second place 4×800 team. They crossed the finish line behind Mid Prairie with a season best time of 10:01.66, only one second off of the school record. Junior Ashley Miller, Foster, Schut and Stafford made up the distance medley team. They finished in second with a season best time of 4:22.49. Their time ranks seventh in Class 2A. The shuttle hurdle relay was the last relay to automatically qualify. Sophomore Megan Cowman, freshman Lexi Kuecker, sophomore Morgan Uhlenhopp and Vos finished second at 1:09.13. They are also ranked seventh in 2A.
Vos made it in the 400 meter hurdles with a time of 67.60 seconds, placing second. She has qualified for State in this event all four years. The last automatic qualifier for the Mustangs was sophomore Maddie Samson in the shot put. She landed second place with a throw of 32 feet, nine inches.
The sprint medley team finished in third with a season best time of 1:53.18. The team consisted of senior Tatum Nearmyer, Foster, Miller and Stafford. Miller also qualified on time in the 100 and 200 meter dashes. She placed third in both events with times of 13.04 and 27.0, respectively.
The first event for the girls on Thursday is the shot put, which is scheduled to begin at 2 p.m. The 200 and 100 meter dashes, 4×800 meter relay and shuttle hurdle preliminaries are also on Thursday. Friday begins with the distance medley relay at 2:40 p.m., 400 meter hurdles at 5 p.m. and ends with the 4×400 preliminaries at 7 p.m. The sprint medley relay is the first event on Saturday at 9 a.m. followed by the shuttle hurdle, 100 meter dash, 200 meter dash and 4×400 finals.