Filled with pride: PCM families moved by military
by Kinsey Phipps
"He's giving service to our country. I'm glad we have people who choose to do that," High School Principal Scott Bridges said about his son, Christian Bridges.
Each year, the PCM community has a number of young men and women who enter the armed forces. Each year, the families of these brave men and women wait patiently at home for the next time they will get to talk to or see their loved one.
Senior Kayla Jennings is coping with the very new reality of not having her older brother, Ryan Jennings, as her senior year comes to a close. R. Jennings is a 2014 PCM graduate, and he left for U.S. Army's basic training in March; he is currently in Ft. Benning, Ga. It has been two month since the Jennings siblings have seen each other.
"The hardest part is not getting to talk to him everyday, not having him at the family gatherings, and he is missing important events happening during my senior year," K. Jennings said. "It has been really tough not having him around the house because he had always been the one there for me, and we grew so close."
K. Jennings will reunite with R. Jennings at his graduation from basic training in June. Until then, she takes comfort in the highlights of this experience.
"The best thing is knowing that he is happy and doing the thing he loves," K. Jennings said. "I have learned not to take the time you spend with your close ones for granted. I also forget how much a hand written letter can mean to someone until now."
Regular communication isn't easily accessible in basic training, and this is something the Pendroy family had a hard time dealing with when 2015 PCM graduate Luke Pendroy left to serve in the U.S. Navy.
"He was only gone for a few months, but it felt like he was gone for years," Luke's sister, junior Lauren Pendroy said. "It was so hard to going from talking to him everyday, playing rock paper scissors for who had to go get Subway to waiting weeks and weeks for a piece of paper from him to arrive. Using only letters to communicate with him was very hard for me."
Luke is stationed on the U.S.S. Ronald Reagan in Yokosuka, Japan. He hopes to be working on the flight deck as a plane handler.
Recently, Luke's friends sent him a collection of photos, each of them holding up a piece of paper with a letter on it. The photos together spelled out We Miss You Luke. The people who love and miss Luke spans far beyond his immediate family.
Lauren said, "The nice thing about him being in the military is that we appreciate each other more. It is a lot easier to be okay with him being so far away when he loves it. He talks about how cool it is in Japan, and it makes me happy to know that he's happy."
The last time the Pendroy's saw Luke face-to-face was on Jan. 1 when he left for Japan. They will not be reunited until late 2017, for the holidays, or early 2018, around March.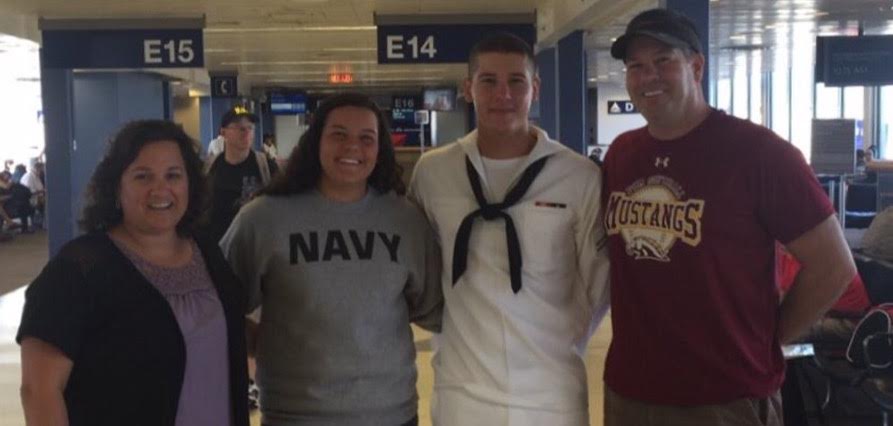 "I know it is especially hard for my parents not being able to see him. I seen him almost everyday; he makes me send him daily pictures of the dog, and he always responds with pictures of himself making dumb faces," Lauren said. "The family does a great job with communicating. Nothing makes us happier than when we get a Facetime call from him."
C. Bridges graduated from Knoxville High School in 2010. Upon graduation, he went to Iowa State University for one year, but he couldn't decide what he wanted to do. Following Iowa State, he took a managing job at Hyvee while taking classes at DMACC. One day, C. Bridges came home and told his parents he wanted to join the Marine Corps.
This news was a complete surprise for the Bridges family. "He had to have been thinking about it for awhile, but we had no idea," S. Bridges said.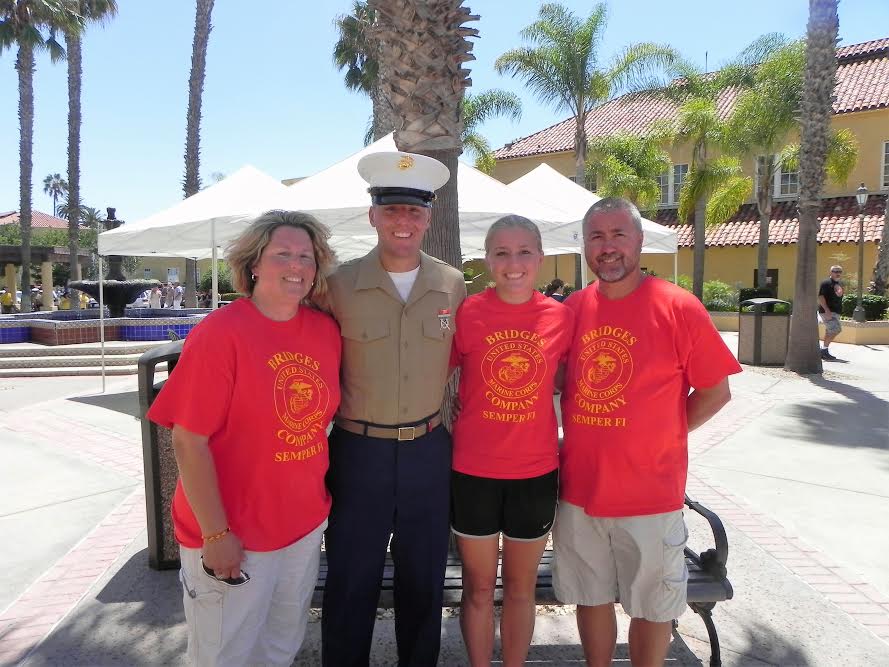 C. Bridges shipped out in May of 2014, and he is now stationed in Jacksonville, N.C. He is a communications and electronics technician for aviation. The Bridges family make trips out to N.C. once or twice a year to visit. C. Bridges will be home for his younger sister, senior Courtney Bridges', graduation in May. He will only be home for four or five days.
S. Bridges said, "We are a close family, spending a lot of time together. It is hard to be 1200 miles away from your kid and get to see him once or twice a year. That's tough."
There's a portrait framed of C. Bridges in S. Bridges' office serving as a constant reminder of his son and the pride he has in C. Bridges' service.
The military's affect on families is a nationwide ordeal, but it is a topic heavily represented in the small-town PCM community. Behind every soldier is a family member or friend filled with love and pride. Those soldiers count down the days until they can arrive home, and their community awaits to welcome them with open arms.