Season bests, lifetime records at Guthrie Center
by Ashley Miller
"It was a beautiful night for track and field, and we are pretty happy with our results. We had multiple events run season best times and even set some lifetime personal records this evening," Head Coach Bridget Martin said. "The girls had great attitudes this evening and created a fun atmosphere to be a part of."
Cold meets were a thing of the past on Thursday, April 13, at Guthrie Center. The girls' track team finished the meet with five first place, four second place and three third place finishes. Panorama took home first with 144 points; PCM came in second with 128.
Sophomore Paytan Schut had an eventful night in the 800 meter run. She finished first with a new personal record of 2:22.70, a second off of the school record. She's now ranked fifth in Class 2A and in the top 25 of the entire state. Sophomore Kirstin Ives also ran a PR of 12:21.57 in the 3000 meter run, placing first. Senior Jayci Vos took home first in the 400 hurdles with a season best time of 1:07.92.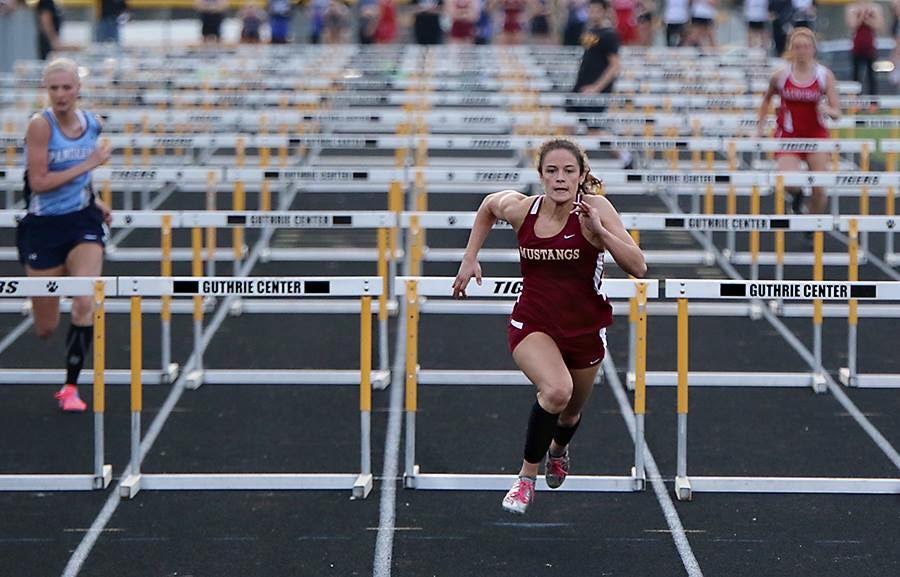 Freshman Kate McCarthy, sophomore Morgan Uhlenhopp, freshman Hannah McCarthy and senior Rachel Stafford made up the distance medley team. They crossed the finish line in first at 4:35.60. The last winning race of the night was the shuttle hurdle relay. The team of sophomore Megan Cowman, freshman Lexi Kuecker, senior Tatum Nearmyer and Vos ran a season best time of 1:11.
The sprint medley team of junior Ashley Miller, freshman Sierra Foster, Nearmyer and Stafford finished second with a season best time of 1:56.40. Miller, Foster and Nearmyer would join Vos for the 4×100. They would cross in second with a season best time of 52.88. Nearmyer, Schut, Ives and K. McCarthy made up the second place 4×400 team. They finished in 4:21.20. Miller would also place second in the 200 meter dash with a personal record of 27.96 seconds.
Sophomore Maddie Samson would take home bronze in the discus and shot put. She threw a season best distance of 34 feet, 4.25 inches in the shot put, and a lifetime PR of 106 feet, 4.25 inches in the discus.
The girls will be competing tonight, Thursday, April 20, at South Tama. Field events begin at 5 p.m.
"We continue to be a well rounded team with points coming from many different areas," Martin said. "The depth we seem to be creating on this team is exciting. As we get to the mid point of the season, we are happy with where we are. Of course, we aren't where we want to be yet, but there is a lot of time left in the season."