Home meet brings wins for both teams
by Ashley Miller
Last year, the PCM Co-Ed Meet was rained out and never rescheduled. Both teams made up for this on April 4 when they both team titles. The boys won with 135 points, 19 points ahead of CMB who came in second with 116. The girls' finished with 182 team points. North Polk was 20 points behind them in second with 162 points.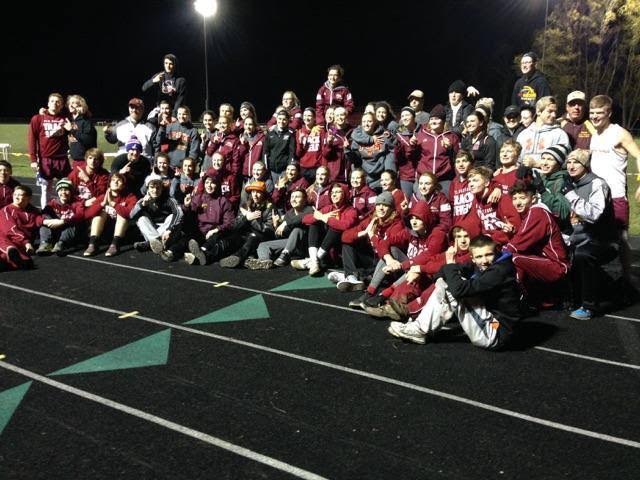 Both teams finished with nine first placing events.
Boys
Starting off wins for the night in field events was senior Noah Clark in the discus. He won with a toss of 141 feet, nine inches. Senior Chris Ellens had two personal bests in both the 1600 and 3200 meter run. He crossed the finish line first in the 1600 with a time of 4:53.49 and in the 3200 at 10:14.09.

Junior Noah Henkenius ran a PR of 54.79 in the 400 meter dash, placing first. In the 110 high hurdles, sophomore Cole Dustin won gold with a time of 16.12 seconds.
Relays were a strong area for the Mustangs. The 4×100, 4×200, 4×400 and shuttle hurdle relay all placed first. Senior Luke Greiner, sophomores Preston Van Wyk and Brayton Van Dyke and junior Noah Anderson made up the 4×100 and 4×200 teams, which won with times of 46.32 and 1:37.56, respectively. Henkenius joined Van Wyk, Van Dyke and Anderson in the 4×400. They crossed the finish line at 3:43.23. The all sophomore shuttle hurdle team of Nick Buswell, Nick Dredge, Jarron Trausch and Dustin finished in 1:06.21.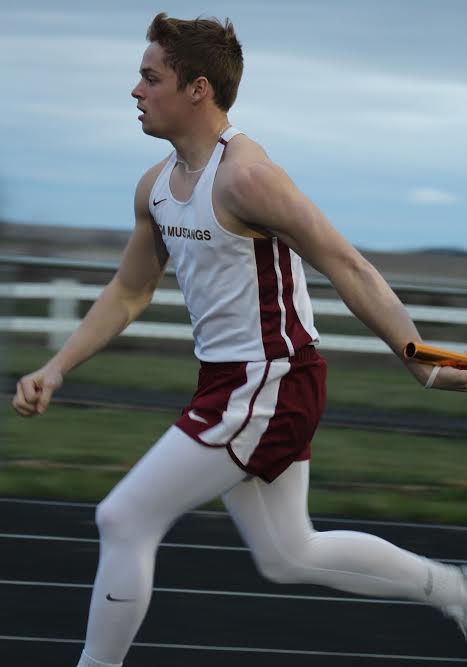 Anderson also placed second in the 200 meter dash with a time of 23.51. Only .02 seconds separated him from first placing Hunter Tyree of Pleasantville. Greiner jumped a season-best distance of 19 feet, two inches in the long jump. He landed second place.
Finishing off top-three finishes for the boys in third place, were Van Wyk in the 100 meter dash with 11.85 seconds and Dustin in the high jump with five feet, four inches.
Girls
"We are very happy with tonight's performances. We had a lot of events improve by a significant amount which is our biggest goal right now—get better each day. It is always fun to win a meet," Head Coach Bridget Martin said, "but it is even better to win at home and even more fun to have both the girls team and the boys team take home the team title."

Senior Jayci Vos won the long jump with a leap of 14 feet, 6.5 inches. It was only her second time in the event ever. She also won the 400 hurdles with a season best time of 1:08.77. Sophomore Morgan Uhlenhopp was right behind her in second place at 1:18.78. In the 400 meter dash, senior Rachel Stafford crossed the finish line in first at 1:04.92. Junior Ashley Miller won the 100 meter dash with a personal record of 13.43. Sophomore Paytan Schut won the 800 with a time of 2:36.93, and sophomore Megan Cowman won the 100 hurdles with a season best time of 17.69.
Stafford and Schut would join sophomore Kirstin Ives and freshman Sayde White for the 4×800. The team finished first in 10:22, 12 seconds than last year's state qualifying time. Miller, freshman Sierra Foster, Vos and senior Tatum Nearmyer won the 4×100 with a season best time of 53.68. Stafford, Nearmyer, Schut and Vos finished off the night with a win in the 4×400. They crossed the finish line at 4:18.73, a season best time.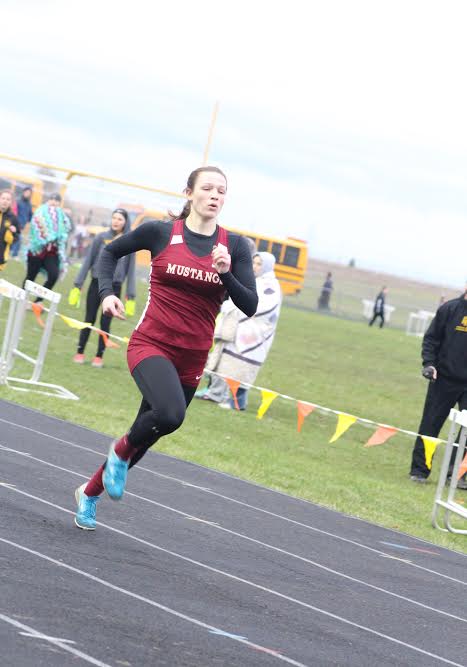 Foster finished second in the 200 meter dash with a time of 29.40, and the shuttle hurdle team of Cowman, freshman Lexi Kuecker, Uhlenhopp and Ives also finished second with 1:18.20.
Sophomore Maddie Samson placed third in both the shot put and discus with throws of 31 feet, 11 inches and 99 feet, eight inches, respectively. Kuecker placed third in the long jump and 100 hurdles. She landed at 13 feet, nine inches in the long jump and ran a season best time of 18.62 in the 100 hurdles. Freshman Klaire Jungling ran a season best time of 13:23.68 in the 3000, placing third.
Freshmen Hannah McCarthy and Kate McCarthy, Miller and Uhlenhopp made up the third place 4×200 team. They finished with a time of 1:58.95. The sprint medley team of Miller, Foster, Nearmyer and sophomore Sloan Hjortshoj crossed in third with a time of 2:04.62. Finishing off third place finishes for the night was the JV 4×100 team of Kuecker, McCarthy, McCarthy and Uhlenhopp. They finished before North Polk, Knoxville and Chariton's varsity teams with a time of 56.44.
"Our seniors were a big part of our success tonight. When looking at the points they were a part of, it is huge. Our underclassmen also really stepped up tonight. To win a team title, it takes more than just first place finishes; ever point counts. It was a great team effort tonight," Martin said.
The boys' next meet is tomorrow, Friday, April 14 at ADM. Field events begin at 4:30 p.m. The girls' next meet is tonight, April 13, at Guthrie Center for the AC-GC Meet. Fields events for the girls begin at 5 p.m.