Remembering Tammy Wickett
by Kinsey Phipps
"She meant so much to me; she was one of the most important and influential people in my life," senior Sierra Littrell said.
Tammy Wickett has been involved in the PCM community for a number of years. She was cheer coach for the last 10 years, and she worked as a childcare provider in Monroe. Wickett passed away on March 21, and she was laid to rest on March 25, surrounded by loved ones and all those she touched; she was just 50 years old.
"She was a huge role model to everyone. She was a role model for her daycare kids; she taught them her kindness and her caring attitude. She was a role model for all of us cheerleaders, to be fair and understanding," senior Kayla Schakel said. "She taught us kindness and how loving someone could be."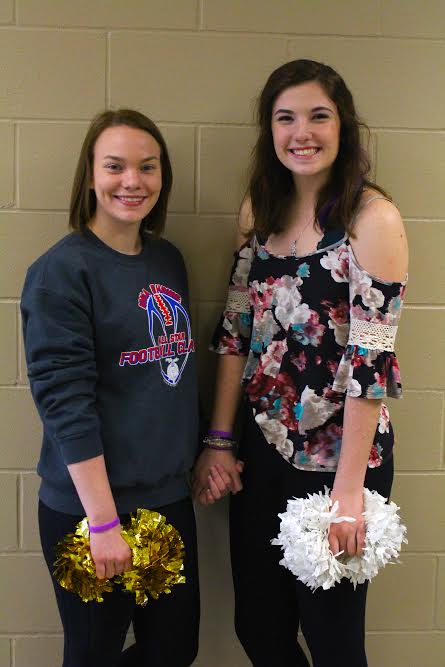 Littrell and Schakel have had Wickett as their cheer coach for the last four years, all their time in high school.
"I remember last summer I was having a lot of health issues. I wasn't sure if I was going to be able to continue doing cheerleading because I would have to sit out of two months of practice. When I went to Tammy to tell her I wasn't doing cheer anymore, she told me no. Just no. She told me she knew that no matter what I was going through, no matter what I thought or didn't think I was capable of, I wasn't quitting. Because it was my senior year, and she needed one more good year left with me," Littrell said. "She always knew what to say and what we needed to hear when we thought we couldn't do something or couldn't go on. I think that that memory explains who she was as a person pretty well. Stubborn, crazy and easily one of the best people I've met in my life.
Sophomore Elizabeth Bradbury is going on without Wickett for the remainder of her high school cheer career.
"Cheerleading will not be close to the same without her. Being positive is a big key to moving on with cheerleading without her," Bradbury said. "Realizing that this is not the end, and we will see her again is what helps me get through and remain positive.
From the cheerleaders she coached to the children she cared for and the endless lives she touched, Wickett has left her mark permanently on the community she loved.
Schakel said, "She was selfless and so very caring. She will forever be in my heart as my hero and guardian angel."