Successful performances at All-State
by Taylor Burns
After passing many panels of judges, seniors Graham Davis and Megan Cox's hard work paid off as they were sent to All-State Speech on March 27 at the University of Northern Iowa. At State, they had to receive two out of three Division I ratings and had to be nominated by two of their judges. Both Davis and Cox received all I ratings.
At All-State they don't receive ratings because they're already at the highest level, but they do get a medal and comments from the judges.
"I was overjoyed at the chance to participate, but nervous as hell until I actually performed," Cox said.
Cox wrote and performed three political poetry pieces called "Black, White and Red All Over," "El Presidente" and "America."  One of the many positive comments Cox received was that her poems were "very intelligently written and performed." One of her judges gave her his card and offered to work with her further in the future.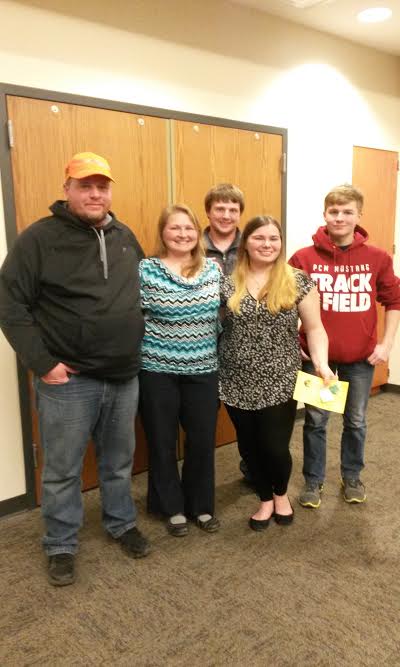 Cox is deciding to either go to the University of Northern Iowa or Central College with a double major in Communications studies and Biology.
Davis performed "I'm Not That Smart" from the musical 25th Annual Putnam County in the category of Solo Musical Theatre. Davis' judge appreciated how he used his physical abilities to bring out the character he was portraying. He also hoped Davis considers performing in college.
The judge hoped right because Davis is going to Columbia College in Chicago to major in Musical Theatre.
"It was one of those situations where I didn't know many people, so it flowed a lot easier because I wasn't being watched by people who I know personally," Davis said.
All-State is an honor and as these seniors finish their involvement with high school speech, they are both honored to be chosen.