HOIAC art awards honor five students
by Kinsey Phipps
The halls of PCM High School are filled with display cases full of paintings, drawings and sculptures; Art teacher Ms. Sara Kirk's art room is plastered with paintings on the walls done by students. Everyday, the art students are hard at work painting, drawing, sculpting and so much more. Each year, the Heart of Iowa Conference (HOIAC) hosts an art show to showcase visual and musical arts in the conference. This year, five art students were honored at Greene County High School on March 2 with awards on their pieces.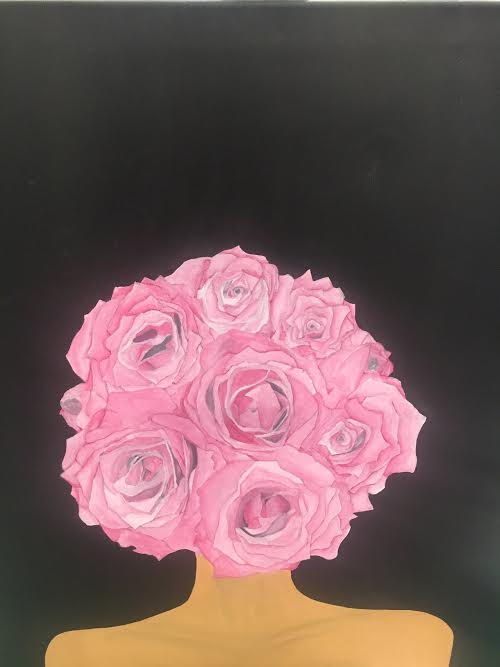 Those five students were senior Bella George with her pencil drawing titled "I.B.T.C.," junior Madison Klages' acrylic painting, "Self Portrait," junior Kinsey Phipps' acrylic painting titled "#selfie," junior Emily Klein's acrylic painting titled "In Bloom," and junior Caity Topp's mixed media piece, "Fish."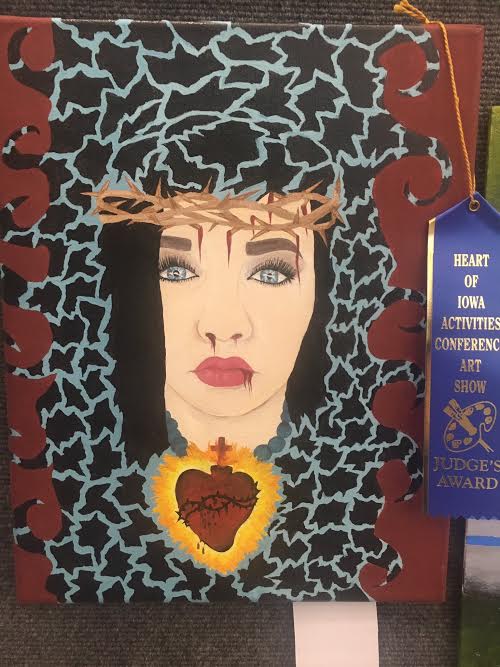 PCM submitted art pieces in the following categories: pencil, acrylic, watercolor, mixed media, sculpture, hand-built ceramics, and pen and ink. Each school is allowed to submit up to 10 pieces in each category.
Three types of awards are given to students: Best in Show, Judge's Award and Student's Choice. Best in Show and Judge's Choice are awarded by the chosen judges of the show, and the Student's Choice, chosen by each school in the conference, is awarded to one piece of artwork not given a Best in Show or Judge's Choice.  George, Klages, Phipps and Klein were all awarded Judge's Choice, and Topp was awarded Roland-Story's Student Choice award.
"I am really proud of the quality of work that came from PCM," Kirk said. "I think the school was represented really well, and I am excited that so many different students won awards."
PCM's artwork was showcased well, but many schools were disappointed in the judging process.
"Overall, the quality of work submitted to this show was really strong. However, the judging was below average. The judges were disappointing this year; both in their choices, attitudes, and justifications for their decisions," Kirk said. "That seemed to be the overwhelming opinion among all of the schools who participated in the show. I feel that there were a lot of worthy artworks that did not receive awards that should have this year."
The five award-winning art pieces will be on display tonight, March 9, at the high school during conferences. Be sure to stop by and take a look.