Mustangs fall to Sioux Center at State; Season ends 20-5
by Taylor Burns
In March 2007, the girls' varsity basketball team took on Battle Creek-Ida Grove in the first round of the state tournament. They lost 87-47. On Feb. 28, the Mustangs competed in the first round of the state tournament once again. They didn't make it past the first round due to a loss against No. 1-seeded Sioux Center 71-27. The Mustangs ended their season 20-5, losing to all ranked teams, four of which made it to the state tournament.
"They had a great season and even though it was our last game, we finished our season in the state tournament. That's something to be proud of, and they have represented themselves and PCM in the best ways possible," head coach Jeff Lindsay said.
Only five Mustangs contributed points against the Warriors. Senior Kayla Jennings led the team with eight. Senior Katie Vande Wall and freshman Regan Freland each had six. Senior Kaylee Townsend scored four, and senior Alexis Timmins had three.
At halftime, the score was 40-18.
Senior Kaylee Townsend fouled out with 5:10 left in the game. As she walked off the court, she thought, it's like my basketball career is over. I won't play competitive basketball again. Basketball is the only thing I know.
The leading scorer for the Warriors was senior Jessica Harald with 16. She also took seven steals and the only three blocks on the team. Juniors Lexi Toering and Jordan Van Maanen racked up 13 points. Touring had eight rebounds, and Van Maanen had five.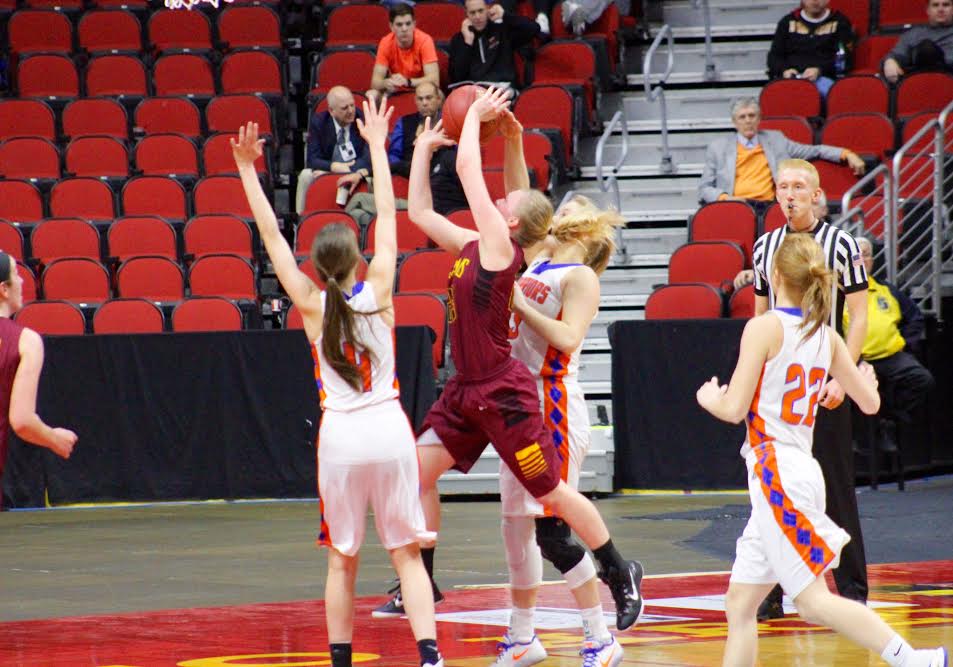 The 24 turnovers are what one could say costed PCM the game. Twenty-one of those turnovers Sioux Center turned into steals.
After the game the Mustangs were presented a state qualifier finalist trophy.
Senior Kayla Jennings and freshman Regan Freland were awarded Heart of Iowa Conference first-team. Senior Katie Vande Wall earned second-team. Seniors Kaylee Townsend and Alexis Timmins received the HOIC girls honorable mention team award. Jennings also earned all-district honors in class 3A.
Freland will be the only starter to return in the 2017-18 season. "I will miss everything about them [the seniors]. They are an incredible group of young ladies with bright futures ahead of them. They will be greatly missed," Lindsay said.