Five grapplers fight on
by Kinsey Phipps
Everything was at stake for the varsity wrestlers on the morning of Feb. 4 as they traveled to Bondurant-Farrar High School for the Sectional tournament. Five 'Stangs placed in the top two and qualified for the District tournament next weekend, Feb. 11. Those five were freshman Payton Drake who was the 106-pound champion, 138-pound runner-up junior Chase Shirk, senior Xavier Miller who was the 145-pound champion, and sophomores Lucas Roland, 160-pound champion, and Jarron Trausch, 170-pound champion. The Mustangs placed second overall as a team and qualified for Regional duals for the chance at becoming State dual team qualifiers. Regional duals were held in Solon on Feb. 7.
Drake has had a promising season thus far, and Sectionals were no different. Drake received a bye first round, then won his second round match by major decision, 9-1. In the finals, Drake faced No. 7-ranked Brock Beck of Grinnell. Beck and Drake wrestled many times in their youth, with Beck usually coming out on top. This time was different. Drake prevailed, winning by decision, 2-0. Drake stood at the top of the podium as the 106-pound Sectional Champion.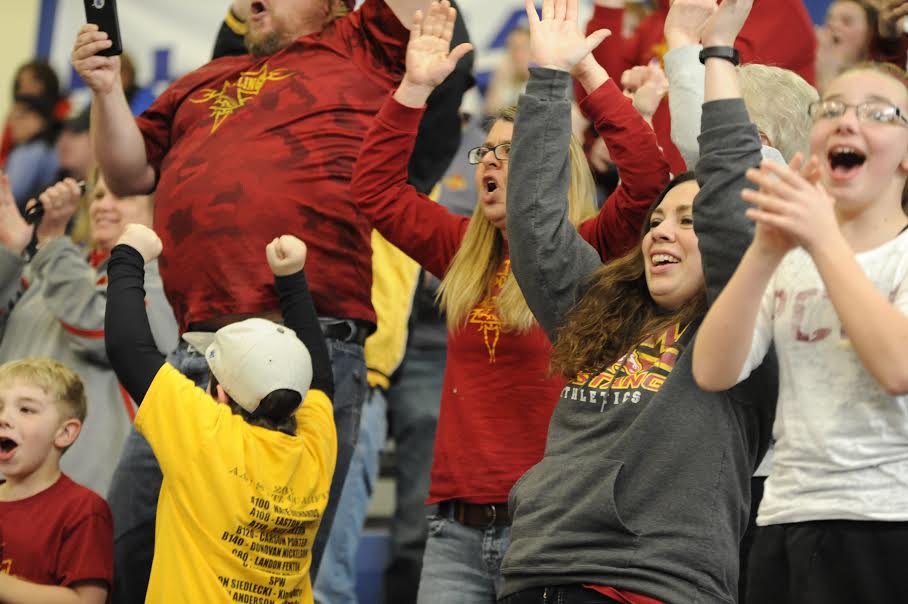 Sophomore Clay Van Wyke earned fourth place in the 113-pound category. Senior Jakeb Fenton, 120-pounds, took third, one match away from qualifying after he lost in a tough wrestleback for second place.
In the 138-pound weight class, Shirk wrestled his way to qualifying. Shirk won his first round match by fall, lost his second round match, but he fought for third place and succeeded by fall. The second place winner had not faced Shirk in the tournament, so Shirk had the chance to wrestle back for second place. In a back-and-forth, nail-biting match, Shirk won by decision over Lane Milner of Grinnell, 11-7.
"I knew I had to go out there and beat [Milner] if I wanted to move on. I was just thinking that I had to wrestle smart and give it my all. It's a great feeling knowing I moved on to Districts," Shirk said.
In his first match of the Sectional tournament, Miller earned his 150th win over Joe Hollinrake of Knoxville, 6-4. In the finals, Miller won by fall over Jevin Wyatt of Grinnell. This sealed Miller's place in the District tournament and made him Sectional Champion.
Sophomore Wes Cummings was missing from the lineup. Cummings is out for the season with a shoulder injury that occurred in Moravia on Jan. 24. Cummings was a 2016 State wrestling qualifier, but unfortunately his chance at wrestling at the Well for the second year in a row was cut short.
Junior Brady Fagen wrestled at 152 pounds in place of Cummings, but Fagen became ill after his first match of the day.
Roland sailed to the top of the podium at 160 pounds, winning by fall in his first round and accepting an injury default in the finals. Roland is a two-time Sectional Champion.
Trausch won by fall in his first match. In the finals, Trausch faced Devon Van Houten of Saydel. Van Houten is a tough competitor, and the pair have seen each other three times now this season; Trausch has prevailed every time. The two-time 170-pound Sectional Champion was Trausch.
Senior Leevi Telfer earned fourth place. He was forced to give up the third place match due to injury.
Senior Clayton Welch earned third place, one step away from qualifying. Welch had a bye first round, and he lost the second round match by fall. Welch prevailed in the third place match, winning by fall in 20 seconds and earned a wrestleback. Unfortunately, Welch fell to Chase Bellon of Knoxville in the wrestleback, settling for third place.
PCM competed in the Regional duals in Solon on Feb. 7. The five qualifiers will wrestle again this Saturday, Feb. 11 at the District Tournament in Knoxville for a change to qualify for the State Tournament at Wells Fargo Arena on Feb. 16-18. Wrestling begins at 12 p.m.