Mustangs in Motion receive a II
by Darian Drake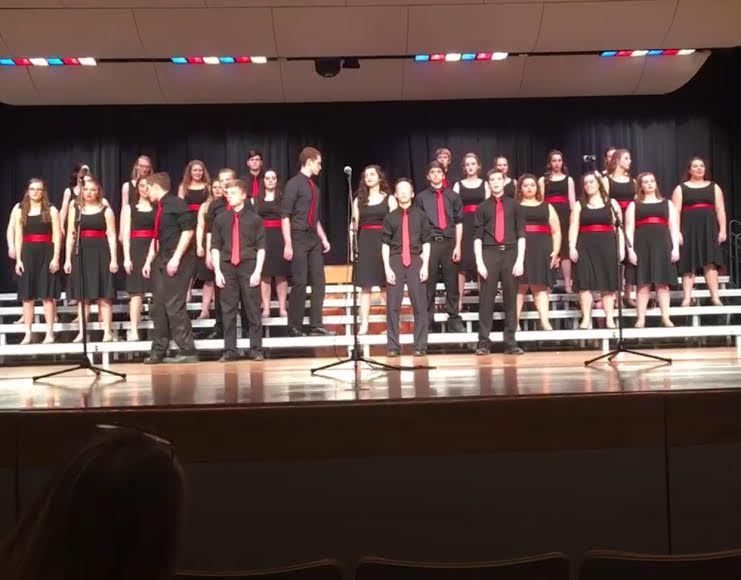 On Monday, Jan. 30 the Mustang show choir made their debut at Marshalltown in a show choir competition.  Mustangs in Motion's theme this year is a modern spin on Elvis songs. "Burnin' Love" was the opening song. Following that was "She's Not You," "Hound Dog," "Don't Be Cruel" and "Can't Help Falling in Love." The group received a II rating.
Mustangs in Motion has 29 members. They are seniors Graham Davis, Megan Cox, Savannah Buys, Morgan McDowell and Mallery Downey; juniors Darian Drake, Amber Meyer, Sydney Burns and Sidney Metzger; sophomores Maddy Buys, Jessica Beener, Kaydee Fowler, Kirstin Ives, Taegen Hamer, Payton Konek, Alex Inskeep, Allison Wood, Brenden Vanderpool, Carson Clark and Jared Smith; and freshmen Zoey Emmack, Blake VanDerKamp, Jacob Cox, Faith Howard, Kate McCarthy, Nigel Sperfslage, Shelby Voeller, Connor Fagen and Arissa Rider.              
"I think the show went really well, especially for a first performance. The show choir can improve for our next competition by making a few small changes to the choreography and just making the show as clean and sharp as possible," Director Rocco Contini said. "It's a matter of repetition and getting comfortable with the set as a whole, and I know they'll pull it off!"
The next performance will be Saturday, Feb. 11, at North Polk.