Virtual Reality becomes a reality; Foundation gives Tech Club $2,500
by Drew Johnson
The PCM Tech Club hasrecently received a $2,500 donation from the PCM Foundation so they can begin the construction of a VR (virtual reality) cart. The cart is a mobile learning tool that uses the power of virtual reality to help students envision a world around them that they wouldn't otherwise be able to do.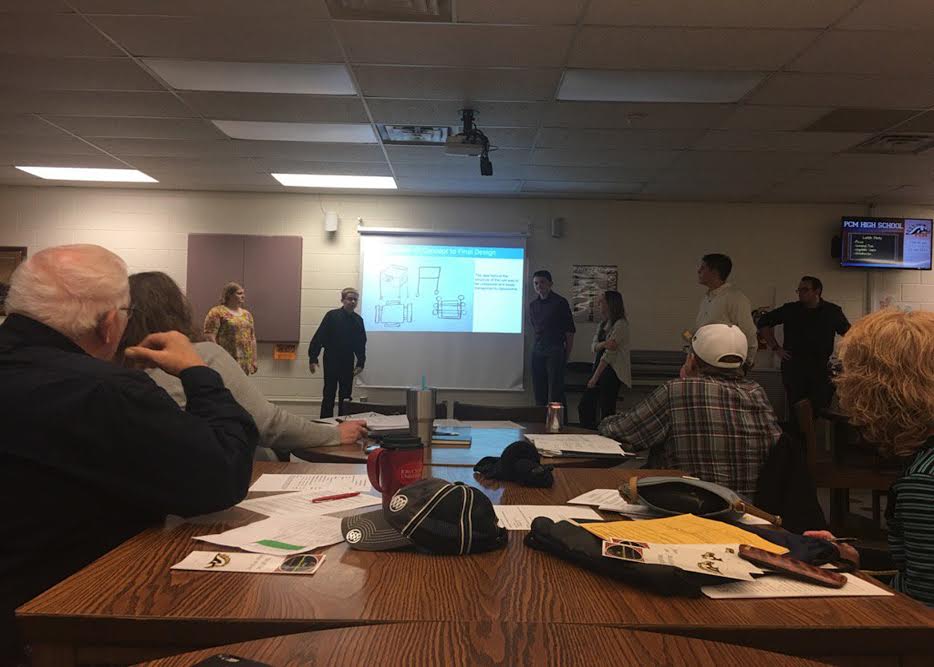 Virtual reality is the computer-generated simulation of a three-dimensional image or environment that can be interacted within a seemingly real or physical way by a person using special electronic equipment. The cart will use the HTC Vive (a helmet with a screen inside) as the virtual reality equipment. It will also house a custom-built computer as well as a projector, which will be used to project the experience of the user. The cart's top will be covered in plexiglass, showing the components of the computer beneath.
After preparing their slideshow for many weeks, the Tech Club pitched their presentation to the PCM Foundation on Jan. 23 in the high school library. Their slideshow contained all aspects of the project including the project's mission and budget. They even included some hand drawn sketches and a 3D model as well.
Tech club members waited in suspense that evening until supervisor Sean Balzer sent them all an email letting them know that they received the $2,500 they asked for.
The Tech Club is composed of seven students who each bring his/her own skills to the group. Freshmen in the club include Ayrton Breckenridge, Chase Spencer, Blake Van Der Kamp, and sophomores are Blake Reed, Brenden Vanderpool, Mia Rouse and junior Paige Wood.  Breckenridge and Van Der Kamp worked together on design. Wood's skills in the wood shop will be utilized when constructing the frame for the cart. Along with giving the cart more of a "custom" feel, it will also cut down on construction cost.
"We were working on it for five weeks before the presentation getting everything in order. We split the work up so that each individual had a task. Van Der Kamp came up with the overall design and Breckenridge took care of the 3D modeling. It was all a collaborative effort," said Spencer.
Not only will the entire district be able to use the cart as a learning tool, but the tech club will also gain the skills in areas of design, computer construction, and working as a team.
"I am very impressed with this group of students in regards to their dedication and organization of the project. We are all very excited to see the final form and how it will impact learning in PCM classrooms." said Balzer