by Taylor Burns
After beating Saydel last Tuesday night, the Mustang girls and boys picked up two wins over Fairfield on Thursday and added two more over Collins-Maxwell-Baxter on Jan. 20 in Monroe. The girls won by 15 points 44-29, and the boys won by over 15 points 74-55 for a clean sweep.
Girls
The girls started with seniors Kaylee Townsend, Katie Vande Wall, Rachel Stafford and Kayla Jennings and freshman Regan Freland. The score at half was 28-11. Freland led the team in scoring with 18 points along with four steals.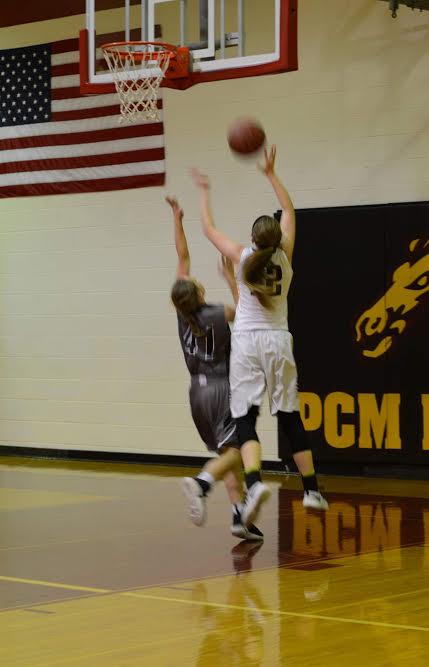 Jennings added 15 points, eight rebounds, four assists and six steals. Vande Wall had nine points and seven rebounds.
"We continued to work together as a team to pull out the win even though we were tired from the previous games earlier in the week, but we found a way to overcome it even when our shots weren't falling," senior Bailey Brodersen said.
Boys
The boys took the court next. The starters for the boys was senior Mark Bruxvoort, juniors Elijah Sperfslage and Jackson Thomas and sophomores Reed Worth and Andrew Van Ryswyk. After the first quarter, the Mustangs were ahead 20-8.
Thomas led the team in scoring with 19 points. Freshman Derek Brown added 11 and Sperfslage racked up 10 along with three assists. Bruxvoort led the team in assists with six while Worth had four. Van Ryswyk had one steal and two blocks. Bruxvoort and Van Ryswyk each had seven total rebounds with Brown having six.
"We need to keep working as a team by moving the ball, use our speed to our advantage and have good attitudes," Bruxvoort said.
Both boys and girls play tonight at home in a rescheduled game against South Tama starting at 6 p.m. The Mustangs are on the road, Friday, Jan. 27, at Gilbert High School for a Mega Night with the girls' varsity game beginning at 6 p.m.