Four speech groups State bound
by Taylor Burns
On Jan. 20, seven speech groups traveled to Grinnell for District Speech Contest where they competed with other groups for the right to move on to State. Of those seven groups Readers' Theater and three Improv groups will advance to State Large Group Speech Contest on Feb. 4 at Grinnell after receiving a Division I rating.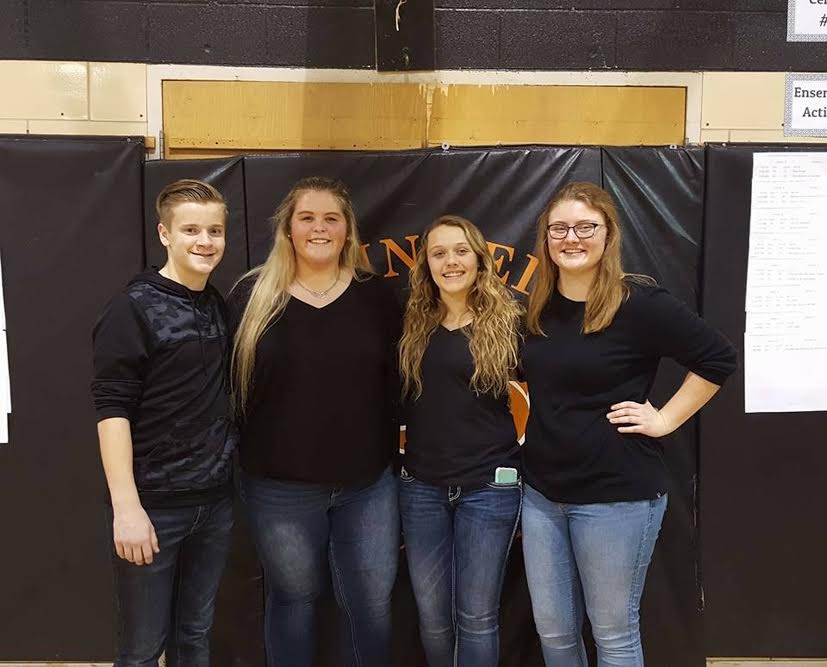 "I think it is awesome to have over half of our groups move on to State. In my group, we had some things we needed to work on, and we made sure to address them during warm-ups before we went in, and I think that helped us a lot," senior Jayci Vos said.
The Readers' Theatre group consisted of seniors Katie Vande Wall, Bailey Brodersen, Chelbie Gillespie, Mallery Downey, Jaiden Rodgers and Kayla Dustin; junior Sydney Burns; sophomores Carson Clark and Payton Konek; and freshmen Zoey Emmack and Blake VanDerKamp. The group, which performed "The Legend of Slappy Hooper," was directed and edited by senior Graham Davis.
One of the three improv groups moving on to State consisted of sophomores Jared Smith, Mia Rouse and Maddy Buys.
The second improv group to make it was Rodgers, Gillespie, Dustin and Clark.
The third and final improv group to make it to State consisted of senior Courtney Bridges, Vos, Downey, junior Jacob Ponder and Konek.
"There's not a great way to practice for them [improv groups] because the situation is drawn two minutes before acting out. We will probably get together a couple times before State just to review the rules and act out some situations like what will happen at State. I will give them three scenarios with two minutes to discuss what to do and five minutes to act one out," Speech Director Janice Davis said.
There were three groups who received Division II ratings and did not move on. There were two Musical Theatre groups and one Choral Reading. Davis helped choreograph and block the Musical Theatre group with the help of Burns.
In the first Musical Theatre group there was Davis, juniors Sidney Metzger and Sydney Burns, sophomore Alex Inskeep and Emmack. They performed "No One is Alone."
The next Musical Theatre group which performed "Welcome to the 60's" consisted of senior Megan Cox; junior Madeline Mitchell; and sophomores Morgan Uhlenhopp, Kirstin Ives and Maddy Buys.
The final group to not advance to State was the Choral Reading which read "Band Aid." This group was Bridges, Brodersen, Ives and Rouse.
"We need to work on having emotions, and the improvs need to work on blending as a group together and not speaking over each other, which is a hard issue to do," Davis said. "I think everyone just needs to work together and with that, I think we will do very well [at State.]"