Shutout on senior night
by Darian Drake
On Jan. 12 the senior wrestlers took the mat for the last home meet of their high school career. The Mustangs beat Greene Co. 55-24 and South Hamilton with a shutout win of 81-0.
First, the wrestlers went against Greene Co. They had seven pins, two technical f
alls, and one decision in their favor. One of PCM's best wrestlers, sophomore Lucas Roland, was out because of illness. Junior Brady Fagen stepped in for his second varsity meet of the season and won by fall with a time of 1:31. Also winning by fall were freshmen Payton Drake and Jace Smith with times of 59 seconds and 1:42, respectively. Sophomore Wes Cummings won by fall with a time of 1:20. Junior Chase Shirk pinned his opponent in 1:16. Wrapping up the pins of the night were seniors Jakeb Fenton and Leevi Telfer winning by fall with times of 54 and 47 seconds, respectively.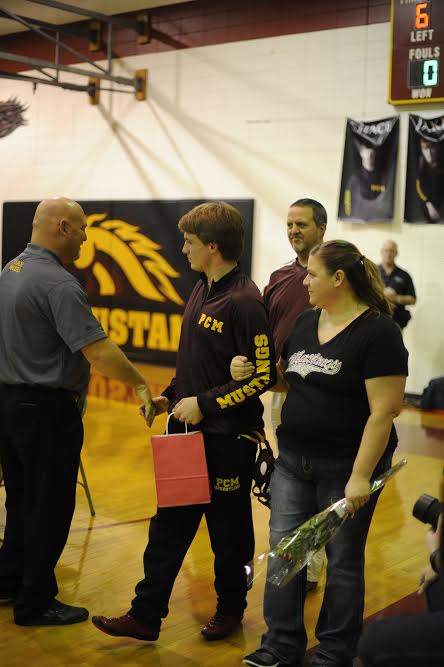 Then, the Mustangs wrestled the South Hamilton Hawks. They continued to win with six pins, seven forfeits, and one decision. Fenton won by fall with a time of 1:41. This was the first time in Coach Cory Waddell's coaching history that his team won in a shutout.
"It was great to send this group of Seniors out with a memorable victory, 81-0. The entire team stepped up and took care of what they needed to do. Very pleased with the effort."