First tournament underway; grapplers seek improvement
by Kinsey Phipps
"It was nice to show our crowd what is to come for this team," sophomore Jarron Trausch said.
The morning air was cold as PCM loaded the bus on Dec. 3, but the grapplers were heating up for their first competition of the year. The varsity wrestlers headed to the Dallas Center-Grimes Invitational in hopes for some tough matches and hard-earned victories. By the end of the day, PCM finished seventh out of 13 teams, had two champions, one runner-up and numerous victories. Those champions were two of the four Mustang State qualifiers from the 2015-16 season, Trausch and sophomore Wes Cummings.
"I think the team wrestled great for it being our first actual competition," Trausch said. "Finally competing after just practicing for so long felt great."
In the 152-pound weight class, Cummings battled to the top of the podium. He pinned his first opponent, junior Harrison Hayes from Webster City, in a time of 1:40. In his second match, Cummings slipped by, winning in a 9-8 decision over freshman Logan Neils of Ankeny Centennial. Finally, Cummings put on his championship singlet in hopes of galloping to victory, but it would be a battle. Cummings was up against the 3A number three ranked grappler from Dallas Center-Grimes, junior Zane Mulder according to thepredicament.com. Cummings is number six ranked in 2A. It didn't look like much of a challenge when Cummings pinned Mulder in an upset, claiming victory in just 1:17.
"I've wrestled long enough now that every match feels the same. Even when I know it is going to be tough competition, it's not going to stop me from going out there and wrestling the way I know how to wrestle," Cummings said. "Against Mulder, I just went out and wrestled."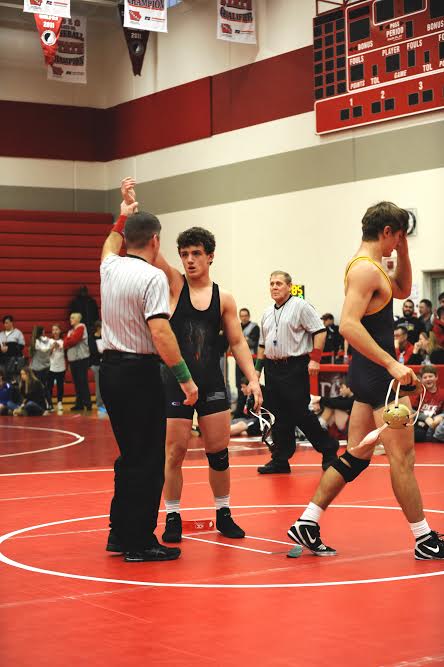 Along with Cummings, PCM has three other ranked wrestlers, all on the Des Moines Register and The Predicament's preseason rankings. Trausch is one of them, ranked sixth in the 170-pound weight class on both lists. Trausch sailed to the top of the podium, pinning junior Zane Williams of Webster City in three minutes. The other two ranked 'Stangs are senior Xavier Miller and sophomore Lucas Roland. Miller was runner-up, losing in the finals match to junior Mitchell Swank of Creston/Orient-Macksburg, 5-3. Swank is ranked fifth, one spot lower than Miller who is ranked fourth in 2A at 145 pounds. Roland was knocked out of the tournament after the first match, suffering an non-serious knee injury.
Some other promising talent was senior Clayton Welch and freshman Payton Drake, competing in the 220-pound weight class and the 113-pound weight class, respectively. Both grapplers went 3-1 on the day. This was Drake's first varsity and high school wrestling competition.
"Our goals moving forward are to get better as a team overall and to push each other harder until we are one of the best teams in the state," Trausch said.
Come see the wrestling Mustangs tonight at North Polk High School as PCM takes on their first conference dual opponents, North Polk and Nevada. Wrestling will begin at 6 p.m.