Mustangs roll over Roland-Story
by Taylor Burns
After the first quarter at home on Nov. 29, the PCM Mustangs' girls basketball team knew they had the Roland-Story Norsemen under control.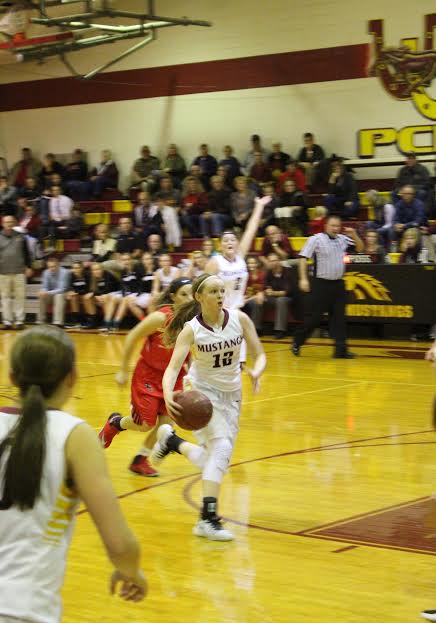 After the first half the Mustangs were up 28-7. The Norsemen offense came back in the second half, scoring 23 points, but it wasn't enough as PCM scored 24, making the final score 52-30. This win added to the winning streak of now 3-0 for the Mustangs.
"I felt we were in a good position to get off to a good start this season with the caliber of players we have," Head Coach Jeff Lindsay said.
Senior Katie Vande Wall led the Mustangs with 17 points with seniors Kaylee Townsend and Rachel Stafford behind her with 11 and 10, respectively. Senior Kayla Jennings had four assists for the team while freshman Regan Freland had three. Both Jennings and Freland had three steals, too. Jennings and Stafford each walked off the court with four total rebounds.
"My goal is to help my team out in any way to win the game. My goal is very similar to the team goal. By doing this, we strive to improve each game we play," Vande Wall said.
The Lady 'Stangs will battle the Gilbert Tigers on Tuesday, Dec. 13 at home. As of press time, the Tigers are 3-2. Come out and support your fellow Mustangs. The girls will start at 6 p.m. with the boys following.
Moving forward and playing harder conference teams, Linsday said, "Our goals are to be consistent, play our game and play together as one. We need to keep working on both ends of the floor and playing with toughness."