Season to be grateful
by Taylor Burns
With the season of being thankful and grateful coming up, some are wishing they had others with them, and others are thankful for the people they do have.
Junior Lauren Pendroy
Junior Lauren Pendroy and her family are one of the many families who wish they had their oldest child, Luke, with them for the Thanksgiving season.
Luke is a navy soldier stationed in Pensacola, Fla., finishing up his air-crew schooling. He graduated from basic training in early August after being in Chicago for four weeks.
"The Navy kind of plays mind games with you, so he still loves it, but now he's looking forward to the traveling part of it. When he found out that he gets to go to Japan, he is super excited and it can't come soon enough," Lauren said.
Luke graduated with the class of 2015 from PCM, and spent his first year out of high school at Iowa State. He then decided to do his part by serving for his country in the Navy.
"[This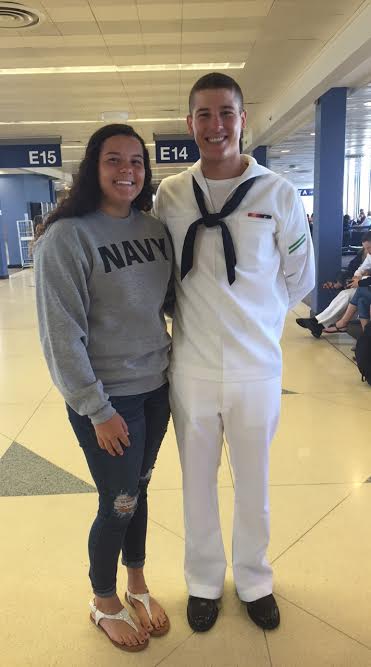 Thanksgiving] I am thankful for all the people who put themselves in harm's way so we can be free. Only 10-percent of Americans qualify for active duty and only one-percent actually volunteer, so I'm thankful for them," Luke said. "I am also thankful that I get to come home for Christmas."
After talking with many officers, Luke found out he gets to come back to Monroe on Friday, Dec. 16 and stay until the 31st. The 15 days will go by fast, but Lauren said she is grateful for anything he gets.
"I know he feels bad that he can't be back for my birthday," she said. "I don't want him to feel bad because he'll be here for Christmas and be able to see all his friends. I'll really take anything I can get."
Having a sibling live in your house your whole life, then all of a sudden you can't talk to them at all is hard.
"I was like the only child, at first. While he was in basic, it was really hard because I couldn't text or call him. I could only write letters, and letters do not justify anything," she said. "Talking about him just makes me smile because it's been so long, and I just miss him so much."
David and Cari Pendroy, the parents of Luke and Lauren, are doing well also.
"They talk to him a lot more than I do. Almost every single day. I can definitely tell that it's different in the house with him gone," Lauren said.
Zoey, the family golden retriever, misses Luke too, and Lauren says everyday she has to send him a picture of the dog.
"We used to just drive around all the time. He would get into the deep, corny conversations about how not to waste your life and to have a good reputation. Now when I hear songs on the radio, especially his favorites, I have to change them," she said.
Lauren said it's going to be weird at her family Thanksgivings now because they always hung out and had each other. Now, she said, she'll have to sit at the "big kids" table.
The Pendroy family has a thing with doing hand-hugs. Luke recently got a tattoo over his heart of a hand. Around the hand is a ribbon that says "Family is Forever."
"I never realized how close Luke and I were until he went to basic, so I am extra thankful for the relationship we have. And I'm extra, extra thankful that he gets to come home for longer than he expected," Lauren said.
Mr. Collin Harrison
Another person who is wishing he has someone with him is one of the PCM Middle School's math teachers, Collin Harrison.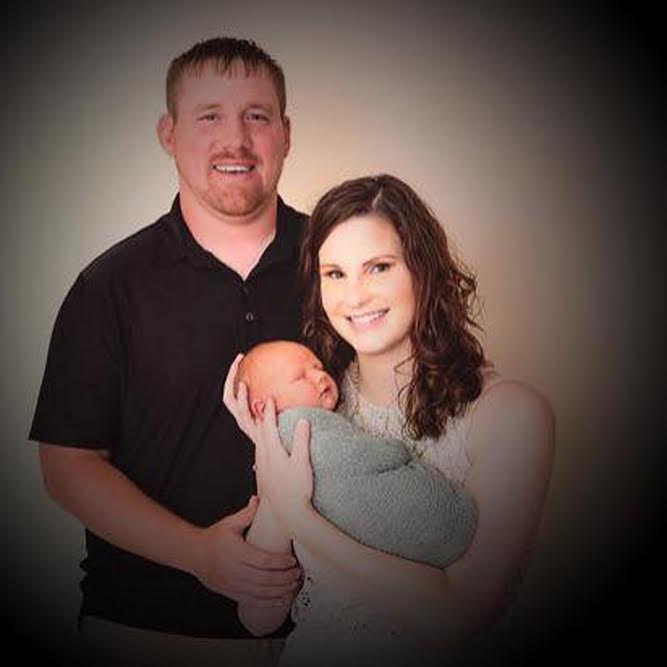 Mr. Harrison lost his mother in Jan. of 2014 after she had been in ICU for 75 days. She had a disease called Scleroderma that ultimately caused her to pass away. Scleroderma is an autoimmune disease that makes it so her diaphragm/lungs stop working. She was using a breathing tube for about 60 days until there was no way of coming back from it.
"It was tough to cope with it at first. I was a big 'momma's boy,' so it was really hard. My mom would not have wanted any of us to be sad or dwell on it but to make the best of a bad situation," he said.
The day before his mother was admitted into the hospital, his father had double knee-replacement surgery, which meant he couldn't drive or do anything for his wife when she was first admitted. Harrison drove him to and from the hospital to help take care of him as well as his mother.
"I knew that I was needed by my dad because as hard as it was seeing my mom in the hospital, it had to have been even harder for my dad who had been married to her for close to 30 years," Harrison said. "Lucky for me, PCM was outstanding in understanding and letting me be someone that my parents could count on to help out whenever I possibly could."
It's not the first year he has been without his mother. He says this time of the year is the hardest part.
"There are always tears, and there will always be an open spot in my heart when I go home, but I know that she watches over us. I know that she is with us in these moments," he said.
Mr. Harrison married Megan in May of 2013, and just three years later, they were gifted with their first child, Huxlee David Harrison. The 16-week old baby boy was born on Aug. 2 at 12:44 a.m. weighing eight pounds, five ounces and 21 inches long.
"A baby is never easy, especially with it being our first and not knowing what to expect. Luckily, my wife was great with him. It had to have been hard for her because of the timing. He was born right at the beginning of Aug., which was right at the beginning of football, so I wasn't going to be home as much as I should be," Harrison said. "It has been difficult at times, but we wouldn't trade it for anything."
Harrison said the best thing about having a son is being able to see him grow and develop.
"There is no way to describe how you feel when your new baby smiles," he said.
As the Harrison family gets ready to celebrate their blessings, Harrison said he's thankful for a lot of things.
"I'm most thankful for my wife. She has given me so much support and love throughout the years…and has also given me the greatest joy in my life with my son. I am also thankful for my PCM community. The amount of support I have gotten over the years from all of my friends/colleagues/administrators here has been amazing. Lastly, I am also thankful for my mom. She is not here anymore but the values and morals that she instilled in me have made me someone that I only hope would would be proud of," he said.
Sophomore Morgan Uhlenhopp
Sophomore Morgan Uhlenhopp and her family—previous PCM graduates Zach Uhlenhopp (Class of 2014) and Michaela Uhlenhopp (Class of 2016) along with their mother Beth Uhlenhopp—are going through their first holiday season without their father and husband, Daryl Uhlenhopp.
Daryl passed away earlier this year on Feb. 14 of a heart attack.
"I just leaned on my friends and family. I'm still coping with it," Morgan said.
Although there have been some tough times this past year, Morgan says her family is stronger than ever.
"We're always worried about each other and always there for one another because that's what he'd want," she said.
Zach is in his junior year at Simpson. He is part of the football team.
"I've missed my dad just not being here in general. I miss him not being at my athletic events, and it's hard not having him here during he holidays," Zach said.
Michaela is going to school at DMACC in Ankeny.
"He's the missing piece of everything I do in my life," Michaela said. "I'm so thankful for my family, my friends and my faith. Without these three huge parts of my life, I wouldn't be who I am today."
Even though they have the support of each other, Morgan says she missed the support and just having a father figure.
"[This Thanksgiving] will be different because he'd usually be the one to plan and take us places. That's usually what a dad would do, so it will be empty but we're just going to try to fill that emptiness with happiness and just do it for him," Morgan said.
And as Thanksgiving rolls around for this family, the first holiday without their father and husband, Morgan said, "I'm just really thankful for my friends and family. Even though in the midst of something so awful, they can still make the best out of it. [My advice is] just learn to be thankful for what you have because there's a lot you should be thankful for."