Mustangs' season ends; seniors last stride
by Brady Fagen
"This team was way better than anybody we've played, there is no doubt about it. I think this team has got was it takes to win the title," Head Coach Greg Bonnett said.
The PCM Mustangs varsity football team has finished their season with a record of 9-2. Their last game at home resulted in a loss against the Dike-New Hartford Wolverines. The final score of the game was 54-14.
PCM had a strong team this year. The seniors showed leadership, and the underclassmen followed. Through the tough times in practice and the stressful moments in games, the boys continued to push each other and work hard.
"A brotherhood is a strong thing, and if you create a strong brotherhood, there is not much that can pull it apart. If you work hard in life, you are going to succeed. All good things come to an end. Enjoy things while they last," senior Leevi Telfer said.
Sometimes you have to take sacrifices for the things you love, and thats exactly what senior Luke Greiner did.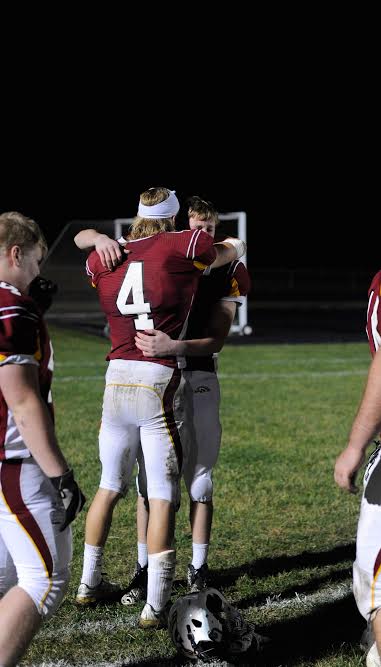 During the first round of Districts, he was experiencing "cramps," or so he told the trainers when he knew it was something a lot worse. Greiner continued to play and he played the following weeks' game versus Dike-New Hartford. after the season ended, Greiner and his family sought medical attention. They were told that Greiner had broken his fibula and played on the break for eight days. 
"This team meant the world to me. All day, everyday, at practice or wherever, I was I was thinking about the team. I always tried to give my best effort and tried to be the best role model for the younger guys," senior Noah Clark said.
Like Telfer said, "All good things come to an end." But this doesn't stop the team from working hard in the off season. The Mustangs are looking forward to the 2017 football season, where they can show how hard they've worked together to reach the point of success. Congratulations to the 2016 football team on a successful season. Good luck to the seniors in their future endeavors.