by Brady Fagen
In the first round of the playoffs at PCM on Oct. 28, the Mustangs handed the Norsemen from Roland Story a 38-7 defeat to advance to the quarterfinal round versus Dike-New Hartford. If the Mustangs win Friday night they would advance to the UNI-Dome against either Carroll Kuemper or Boyden- Hull/Rock Valley.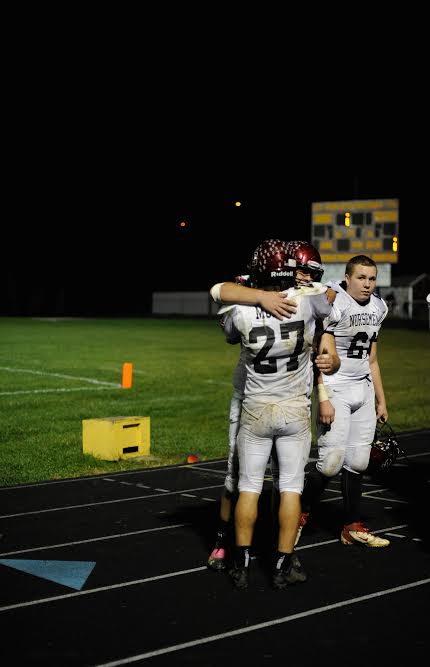 The Mustangs had an amazing offense. From passing, to running, to quarterback sneaks, they managed to make it work. The line kept quarterback senior Sheldon Speers safe and provided tremendous blocking for running back junior Noah Anderson and sophomore Wes Cummings. Speers also dished out a majority of his passes to senior wide receivers Luke Greiner and Noah Clark who both made a couple of unbelievable catches.
Speers threw for a total of 268 yards, 132 of which were thrown to Greiner, who scored one touchdown for an incredible 40 yards. Clark had 86 yards on the night with one touchdown.
"We knew it wasn't like our District games where we just get to chill on the sideline and cheer on the second strings. It was an actual playoff game, and we knew we had to come out with the same intensity, if not better," Greiner said.
Wes Cummings had a whopping total of 214 yards and ended the night with two touchdowns.
The Norsemen were said to have an outstanding running game, but it was no match for the Mustangs. PCM put pressure on Roland-Story's offense every play. The Mustangs' defensive line got through easily to apply pressure on Roland-Story's senior quarterback Brett Staton. Seniors Clayton Welch and Greiner, both defensive ends, denied the Norsemen to reap yards up field. Welch had one sack for the night.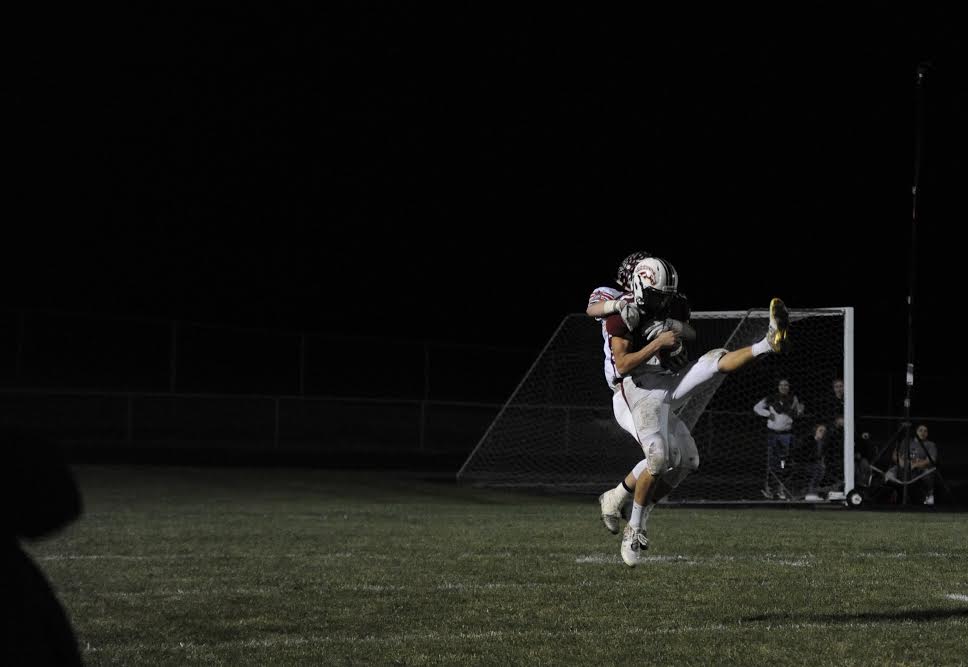 "My heart starts pumping really fast, and sometimes I even black out. Once I get through the line and see the quarterback, I automatically think I'm going to try to tackle him. When the quarterback and I lock eyes, we both know what's going to happen. He's going down," Welch said.
PCM's sophomore Brycen Rodgers is someone to watch He delivers a pack of a punch when he hits. He left two of Roland-Story's players injured. They did not return for the rest of the game. Two interceptions were made on the night from Speers and junior Ivan Young who took it up the field for a gain of 12 yards. Junior Jacob Ponder recovered a fumble, which was caused by Speers.
"We struggled, and they tried to fight back in the second half, but I knew it would come because we haven't played a second half yet. We experienced some things like cramps, but this is good for us. This is excellent training and for what next week is going to bring. We are going to take care of our bodies. We are going to watch a lot of film," Head Coach Greg Bonnet said.
"I think we pretty much know what we've got coming with Dike. They've got a running game that's really good, and we need to play really physical and sound. We just need to get up there and slow their offense down," Bonnett said.
The quarterfinal round against Dike-New Hartford will be at home this Friday, Nov. 4. The game will start at 7:00 p.m.