Busy day for Marching Mustangs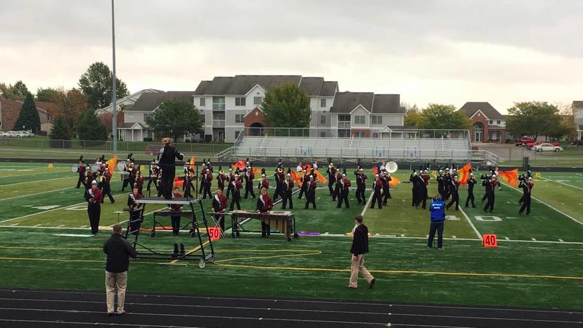 by Dylan Sanders
The PCM marching band traveled to Pella early in the morning for State Competition on Oct. 15. State is the biggest competition of the year for the PCM band as they show all of the improvement they've made throughout the season.
The band played at 9:45 AM. They continued the success of the previous PCM bands with a Division 1 rating.
" We got a score of 72.7. The cutoff for Division 1 is 68, so that is a very good score," Band director Mr. Varner said.
The marching and the impactful moments of the show improved greatly.
"I think the band has improved so much from the beginning of the year.  One of the biggest areas is that of musicianship and having the ability to identify and create impactful moments during our show," Varner said.
The Band traveled to Ankeny later in the day for their last marching competition of the year.
"The last competition of the year is usually one of our best because we leave it all on the field," said Varner.
The band marched a very good show and earned 3rd overall even during undesirable conditions. The score that the band got was 59.4. Only Eddyville-Blakesburg and West Marshall scored higher. The point systems in Pella and Ankeny were different.