PCM student sheds light on rape culture
by Kinsey Phipps
According to RAINN.org, for every 1000 rapes, 994 perpetrators will roam free. Of every 1000 cases, 344 are reported to police, 63 reports lead to arrest, 13 cases get referred to prosecutors, seven cases will lead to a felony persecution, and only six rapists will be incarcerated. Six out of every 1000 rape victims will get justice. Rape culture has been a popular subject in the media, recently. Stories have gone out about Brock Turner, the Stanford rapist, and discriminatory judges on rape cases all over the world. Social media's outrage surrounding the injustice of rape cases has shed light on the recent events. However, one PCM student decided to do something more.
Junior Caity Topp has always had a passion for the arts.
"When I think of art, I think of just about everything. Photography, painting, pottery, graphic design. If you can make it with your own two hands, that's art, in my eyes. I want to try out any and every type of art," Topp said.
Having this love for art drove Topp to do something different to shed light on what's happening in society surrounding rape culture by using the art of photography.
"What I have decided to do was get together some friends and classmates to take pictures of, and with those pictures, I have added another picture on top of it with quotes of what society has said to victims," Topp said.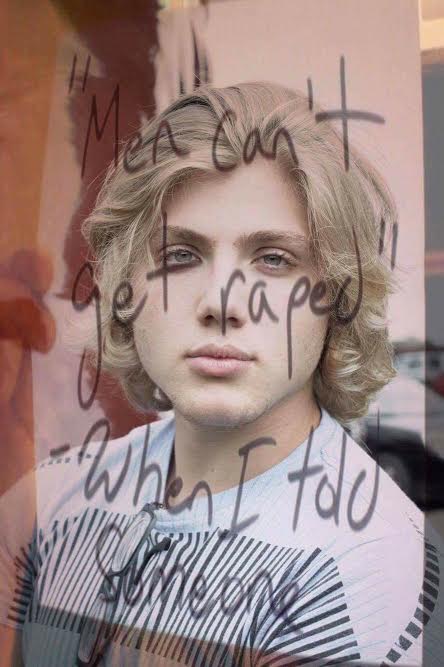 Topp has gathered various high school students from the PCM hallways to put together an image of the person with another image of written words society has given to victims of rape. These messages are why society believes victims were taken advantage of. Some examples are, "I shouldn't have been walking alone," and "My skirt was too short."
"I thought she did a good job at choosing quotes that would make the most impact," PCM Art Teacher Sara Kirk said.
Topp's project is shedding light on a very controversial subject.
"I think [the project] was a really good ideafor two reasons: One, it addresses a really serious issue in our society, and I also thought it was a good idea because she was pushing herself to try something different and put more meaning into her work," said Kirk.
Topp isn't sure what she wants to do with the images once they're finished, but she does know what she hopes people will understand about the project and the work she is doing.
"It was designed to show the ways in which society blamed victims of sexual assault and normalized male and female sexual violence," Topp said. "I am doing this project to bring to everyone's attention what's happening."