Mustang cross country brings the competition
by Brad McClellan
The PCM Mustangs' cross country team competed at Knoxville on Tuesday Sept. 28. The girls placed sixth place out of 17 as a team, and boys placed 16th out of 19 teams. Senior Chris Ellens once again placed in the top three.
The girls' had an average speed of 23:27. The first Mustang to finish was sophomore Paytan Schut, she finished with a time of 23:02 and placed 25th.
"I think we did well as a team, especially for such a rough course, " said Schut.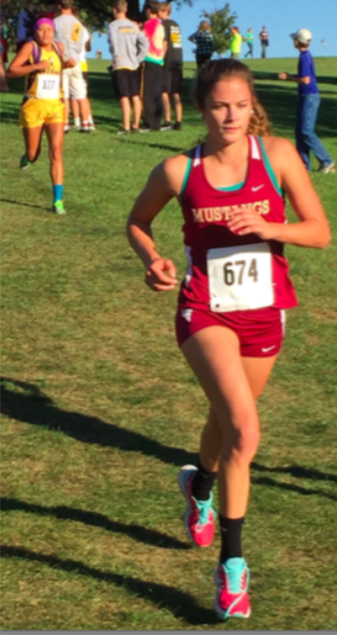 Not far behind Schut  was senior Jayci Vos, who got a time of 23:06 and placed 29th. Shortly after, sophomores Megan Townley and Kirstin Ives ran a close race, placing 32nd and 34th with times of 23:27 and 23:33. Junior Baylee Smith got a time of 24:07 and placed 46th in the race. Junior Ellie Steenbok and senior Rachel Stafford clocked in with times of 24:53 and 25:01, placing 61st and 64th, respectively. 
Once again, Ellens ran an awesome race, finishing second and clocking a time of 17:16.
"The competition at Knoxville was amazing. It was fun to go out and compete with some phenomenal runners," said Ellens
Overall, the boys' team finished 16th place out of 19 teams, scoring 410 points. A few minutes later freshman Jacob Cox crossed the finish line with a time of 21:38, placing 97th. Senior Mark Bruxvoort got a time of 22:15 and placed 105th. The third and fourth runners to finish were juniors Brady North and Caleb Peter; North got a time of 22:44 and placed 110th, while Peter got a 22:45 and placed 112th. Soon after, freshman Owen Hugen placed 119th and got a time of 23:22. The last Mustang runner to cross the finish line was freshman Cody Courtney with a time of 23:42, placing 121st.
The Mustangs' next meet is at Saydel High School on Monday, Oct. 10 at 4:30 p.m.