Tough course makes tougher Mustangs
by Wes Cummings
The PCM cross country team headed next door to Lynnville-Sully on Sept. 15. With this being their fifth meet, the boys and girls have had a few meets under their belt. The Mustangs knew this would be one of the most strenuous courses of the year, so they trained like crazy horses and readied themselves for this tough terrain.
Although the Mustangs gave their best effort, the course and the heat got the best of them with six PCM runners unable to finish. Also, many times were not as good as usual.
On the positive side, senior Chris Ellens crossed the finish line in 1st place with a time of 17:29. Ellens is very impressive for the Mustangs, as this is his fourth first place finish of the year. Freshman Jason Stafford was the next to join him with a time of 20:03. Freshman Jacob Cox clocked an impressive 22:05, and junior Brady North wasn't far behind with 22:22. Junior Caleb Peter finished with a 23:05, and freshman Cod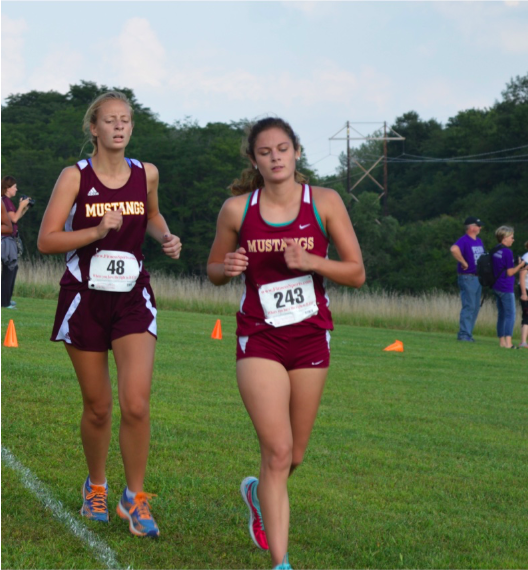 y Courtney crossed with an impressive personal best of 23:06. The boys finished 9th overall with 270 points.
On the girls side, sophomore Kirstin Ives lead the team with a 24:03 and an overall finish of 12th place. Senior Jayci Vos later ended her race with a time of 25:47. Not far behind, sophomore Megan Townley and senior Rachel Stafford both finished close to the 26 minute mark. The girls had a great overall score of 148 and a third place finish. "Chris is great leader," freshman Klaire Jungling said "He works hard, and he pushes us all to be the best we can be. I expect him to achieve a lot of his goals this year." Jungling did not compete at the Lynnville-Sully meet, but is expected to do very well for the girls this year.
The Mustangs had a tough meet, but in the end it made them stronger runners. The Mustangs take action this afternoon.Their home meet is at 4 p.m today at the Gateway Golf Course in Monroe.