PCM sends nine events to Blue Oval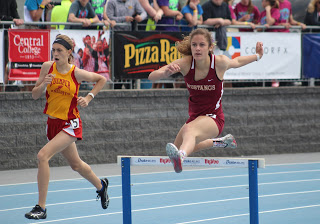 by Ashley Miller
The State Track Meet was three days of the toughest competition, perfect weather and outstanding times. Nine events qualified this year from PCM. On May 19-21, both the PCM girls' and boys' track teams competed to take home a State title.
Starting off State for the Mustangs on Thursday was the girls' 4×800. The team of freshmen Paytan Schut and Kirstin Ives, sophomore Baylee Smith and senior Morgan Novak crossed the finish line at 11 minutes, 2.17 seconds. Senior Ashley Van Gorp participated in the long jump. Her best jump was a leap of 15 feet, 8.25 inches, which landed her 17th place. If Van Gorp would have jumped her personal best, she would have snagged a third-place medal, but this year is the first year she has competed in this event at State, and that was an accomplishment in itself.
The distance medley started off Friday for the girls. The team of senior Emily Hugen, Van Gorp and juniors Jayci Vos and Rachel Stafford crossed the finish line at 4:18.53, placing tenth and breaking the 12-year-old school record by six seconds. The only top-eight finishing relay of the meet was the girls' 4×200. Vos, Hugen and Van Gorp joined sophomore Ashley Miller, and the team crossed the finish line with a season-best time of 1:48.67, placing eighth. Vos ran the 400 hurdl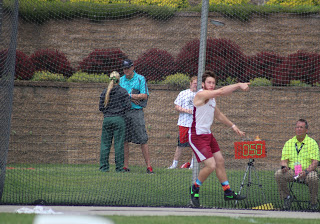 es for the third time at State. She placed third overall with a time of 1:05.69. The last race of the day was the girls' 4×400. Junior Tatum Nearmyer joined up with Vos, Van Gorp and Stafford; they crossed the finish line with a season best of 4:11.96, placing 14th. Junior Noah Clark was the only qualifier of the boys. He placed 13th in the discus with a throw of 144-04.
Saturday started with the girls' sprint medley relay. The team of freshman Morgan Uhlenhopp, Miller, Hugen and Stafford finished with time of 1:55.87, placing 23rd. Stafford then went on to run the open 800. She placed 17th with a time of 2:25.96.
The 2016 track season has ended on a high note, but it's only months before the next one. A new wave of freshmen will come in with hopes to fill the shoes this year's seniors have left.