Mustangs send eight to State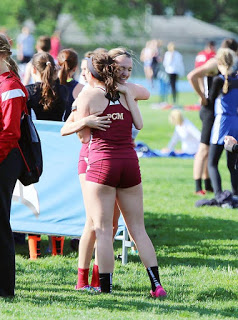 by Ashley Miller
Wind had the PCM girls' track team worried when they first pulled into the Van Meter High School parking lot on May 12. After two years of horrible weather at Districts, the Mustangs were pleased when the wind stopped and their times dropped. Eight events automatically advanced to State, and the team finished third overall.
The first State qualifying relay of the night was the 4×800 team of freshmen Paytan Schut and Kirstin Ives, sophomore Baylee Smith and senior Morgan Novak. They dropped eight seconds off their previous time and knocked out second-seated Earlham for a second-place finish of 10 minutes, 34.32 seconds.
"It is just really exciting to see all the hard work we put into the season pay off," Smith said. "We went there knowing we had a chance, but we were all still in shock when we realized we made it to state. It's just an amazing feeling."
Seniors Emily Hugen and Ashley Van Gorp and juniors Jayci Vos and Rachel Stafford were all part of the winning distance medley team. They crossed the finish line with a season-best time of 4:24.38. Hugen, Van Gorp and Vos joined sophomore Ashley Miller for the 4×200. They finished in second with a time of 1:50.9. The sprint medley team of freshman Morgan Uhlenhopp, Miller, Hugen and Stafford finished with a season-best time of 1:55.65, finishing second. Vos, junior Tatum Nearmyer, Van Gorp and Stafford ran the 4×400 for the Mustangs. They rounded up the State qualifying relays with a season-best time of 4:13.10, placing second.
"It feels unbelievable to being going to State," Uhlenhopp said. "It's been a huge goal to be able to do this for not only me, but for my angel looking over me. When I found out, I was speechless, no words, honestly. I'm super excited to run at Drake with my relay team."
Van Gorp, Vos and Stafford all qualified for four events. Van Gorp jumped a personal best in the long jump. She landed at 17 feet, 0.25 inches, placing second. Vos qualified for the third year in a row for the 400 hurdles. She ran into first with a time of 1:06.12. The final open event State qualifier was Stafford in the 800. She ran a personal-best time of 2:24.97.
Chances of placing well at State are high for the Mustangs. Today, Thursday, May 19, is the first day of  the State meet. It will last until Saturday, May 21. This is the end of an amazing season, so come to Drake Stadium and witness it. Van Gorp will long jump on May 19, at 9 a.m., and the 4×800 runs the same day at 11:10 a.m. The distance medley, 4×200, 400 hurdles and the 4×400 prelims are on May 20, and finishing up the meet for the Mustangs on May 21 are the sprint medley, 800 and 4×400 finals.