Valerie Goginetchi: Spreading her wings in America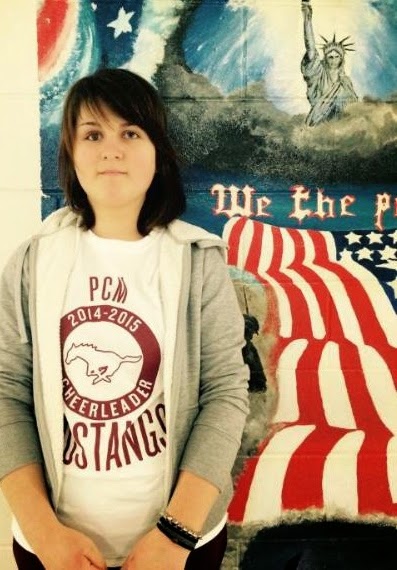 by Ashley Miller
If you ask Junior Valerica Goginetchi why she decided to participate in the FLEX program
(Future Leaders Exchange), she would probably say she didn't decide alone. FLEX is a program for teenagers from Armenia, Azerbaijan, Georgia, Kazakhstan, Kyrgyzstan, Moldova, Russia, Tajikistan, Turkmenistan and Ukraine to experience life and schooling in America. Her best friends from back in Moldova were last year's two finalists, and that sparked her interest in the program.
"I wanted to win in this program because I love American culture, and I want, really want, to learn more about the country which is for my second motherland," Valerica said.
Goginetchi comes to America from Moldova; she lives in the town of Calarasi, a small near the capital of Moldova, Chisinau, with her mom Tanya. According to Valerica, "Calarasi is a town with a wonderful landscape and a lot of persons with big souls."
She would like to be called Valerie because that is what her mom calls her. Goginetchi is happy to be here and hopes the rest of this year is as good as this month. She wishes to find a reason to come back.
"I wish to work in the American Army or to be lawyer in International Diplomacy, so America is one of the greatest countries to open my wings and to start to fly."
Valerie's hobbies include taking pictures, singing, painting, graphics, watching movies and "speaking with persons who are smarter than me, because only in this way I know something really interesting."
Valerie is a cheerleader here at PCM and is happy to have friends who are, "all-rounded and open-minded." She claims to not be homesick, "Home is where you are happy, but I am mom-sick, and I miss her. P.S.: I am sure that I will show this newspaper to my mom: Love you Mamica."
Valerie is only staying for this school year and will be traveling back to Moldova this summer.