Mustangs break records, take silver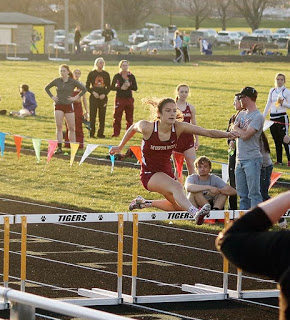 by Ashley Miller
Records were broken at Guthrie Center on April 14. The PCM girls' track team came in second out of 17 teams, and placed in the top three in eight events. Junior Jayci Vos broke her own school record, the stadium's record and the meet's record and became the fastest 400 hurdler in class 2A and first in the state as of that night.
"We finally were able to run in some good weather and had several girls PR in multiple events tonight," Head Coach Lindsey Cunningham said. "Our hard work day in and day out is starting to pay off and show in some of the drastic drops in time in several individual events, splits and relays. We were able to score in almost all events, two in several events, and had some girls really show some heart by fighting for places."
Senior Ashley Van Gorp started out the night with a win in the long jump. She jumped 14 feet, 9.25 inches, a new season best. With a time of 65.64 seconds, Vos broke her own school record set in 2014, along with Guthrie Center's meet and stadium record.
"Breaking my record felt great and all, but what felt even better were the hugs and high fives from my coaches and teammates," Vos said. "Team means a lot to me, and I wouldn't be where I am now without them."
The Lady Mustangs dominated the relays. The first relay of the night was the 4×800, and the team of sophomore Amaya Harston, freshman Kirstin Ives and seniors Morgan Novak and Kiara Kappelmann came in third with a time of 11:10.83, a new season best by over 40 seconds. The 4×200 came in first with a time of 1:52.42. The winning team consisted of Vos, junior Tatum Nearmyer, freshman Morgan Uhlenhopp and Van Gorp. Vos, Nearmyer and Van Gorp were all members of the 4×400 team, along with junior Rachel Stafford. They placed second with a time of 4:20.18, less than a second behind first place. The 4×100 team of senior Emily Hugen, Vos, Nearmyer and Van Gorp crossed the finish line in first with a time of 52.99. Freshmen Delaney Clarke and Avery Stock joined Hugen and Stafford for the sprint medley. The team placed first with a time of 1:58.33. The distance medley team of Hugen, Uhlenhopp, Stock and freshman Paytan Schut ran a time of 4:46.61, landing them second place.
The Mustangs' next meet is at South Tama on Thursday, April 21. Field events will begin at 5 p.m., and running events at 5:30 p.m.