PCM soccer girls lose one, win one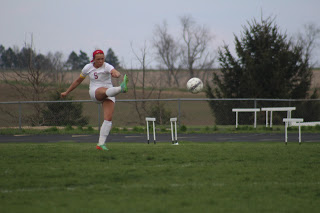 by Kenzie Johnson
PCM girls' soccer had two games last week.
On April 12, the girls traveled to play Nevada where it was going to be a rough one.
"We knew it was going to be a hard game," junior Abby Waddell said, "Usually we end up losing 10-0, but this year we made it a goal to play as long as we can with them."
Nevada is a really tough team to play, as they were ranked number 1 in the pre-season. The end of the game was a defiant win for the Cubs, with a final score of 11-1. The only goal from the Mustangs came from Waddell.
"We actually scored first, and we never score against them. Then it took them about 20 minutes to score their first goal," Waddell said. "I felt we improved from the last time we played them. I felt like everybody could see the improvements we have made. I know it gives me and a few others on the team a little hope to have a more successful season than years in the past."
To finish out the week, on April 15, the Mustangs played on their home field to come out with a 2-0 win over Centerville. Colfax-Mingo senior McKinzie Tjaden scored one of the goals in the first half. In the last half of the game, Waddell scored the last goal of the game for the Mustangs. "I think that we played very well using great teamwork and good communication," junior Jaiden Rodgers said. "Even though the score wasn't very high, I think that we won both halves by a long shot with the amount of work that we put in offensively. I thought that our defense worked together very well also when the ball was in Centerville's favor."
Catch the girls at their next game at Knoxville on Sunday, April 25, with JV at 5:30p.m. and varsity at 7p.m.