"Happy it's over"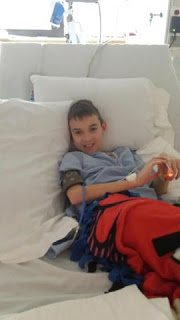 by Taylor Burns
"I'm just ready to go home!"
On March 31, PCM seventh grader Luke Van Wyndargen, son of Bryce and Tracie and brother of freshman Bo Van Wyngarden, left the middle school with the students cheering for and hugging him. Luke was due for kidney surgery on April 6 at Mayo Clinic in Rochester, Minn. He has had chronic kidney disease his whole life. In January, his family found out he was in renal failure, which is a condition where kidneys lose the ability to remove waste and balance fluids, so he's only needed a kidney since then.
Little did they know, his mother, Tracie Van Wyngarden, is his perfect kidney match.
"[It felt] amazing [to be the perfect match]," Tracie said with a big smile. [I was] very relieved that one of us was a good match."
Tracie started her surgery on April 6 at 8:40 a.m., and her kidney was out at 9:55 a.m. Luke's procedure started at 10:34 a.m. At 12:35 p.m., his new kidney was in.
"Right now, we are both doing very well, just a little sore," Tracie said. "Luke has blood work every few days while they try to pinpoint the exact amount of anti-rejection medication he will take. He has about 20 pills a day."
Since the 20 pills a day compromise his immune system, Luke has to be careful he's not around anyone who is sick.
Right now, Tracie and Luke are at the Ronald McDonald House in Des Moines, which has fun things to do for him.
"He will get his dialysis port taken out sometime before we come home, which he is very excited about," Tracie said.
She also said Luke's tests are the best they have been since he was small.
Show your support by taking a picture of yourself with your ice cream from Jersey Freeze in Monroe, and post it to Facebook using the hashtag #JFForLuke. Jersey Freeze will donate 50 cents for every post to Luke's fund and the Kidney Foundation.