Goodbye, Joseph Cunningham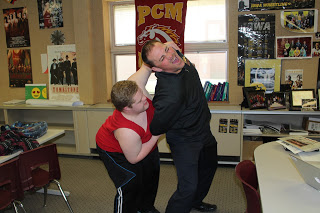 by Clay Cooper
When kids around PCM do as little as just hear the name "Joe Cunningham," a smile appears on their faces. Joe brings happiness and joy to those around him. He is one of very few people who can cheer others up with something as simple as his presence. Sadly, Joe's time at PCM is coming to an end.
Joe has accomplished a lot in his years at PCM. A couple years ago, Joe became the king of ping pong after he defeated every opponent in his path during a school-wide ping pong tournament. Joe is also a master in karate, he owned and operated his own coffee business called "Cool Beans" and he also has hosted many Christmas parties in December. All of these things have made Joe quite the character.
When he is done with PCM this spring, he will begin a new chapter in his life. Joe scored a job at Hy-Vee in Pella, either taking groceries to cars or in sales. Everyone hopes Joe makes great memories at his new job.

A lot of kids have great memories of Joe, but Joe has some great memories as well. He has made people's time at PCM special and the students and staff had the privilege of spending that time with Joe.
He said, "My favorite memory is when I came to PCM. Me and Vos, we're tight. We have fun, we hang out. And Lori, she's all that, and she always has fun with me. She is high strung, but I still love her. I love Teeter because he is my friend and I love him."
Joe enjoys riding bikes, karate and taking care of his family. Every single person at PCM will miss Joe. He has impacted everyone's life that he has interacted with.

Mr. Matt Teeter, at-risk coordinator, said, "I'm going to miss his smiling face and personality. I'm going to miss how he makes everyone smile when he walks into the room and how he makes everyone feel better about themselves."
There isn't an assigned date yet for Joe's departure, but as soon as Joe begins his job at Hy-Vee, he will be leaving PCM. from PCM. Joe will be greatly missed, and his legacy will last forever. Goodbye, Joe.