Mustangs taste victory at Centerville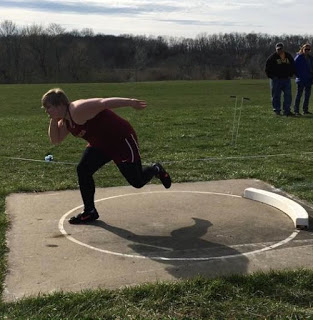 by Ashley Miller
After the carsickness-inducing ride to Centerville, the PCM girls' track team came out victorious on March 29. The Mustangs snagged their first win of the season with seven first-place finishes and 13 second- and third-place finishes. They finished with 130 points. Davis County was in second-place by 39 points.
"We had a great first outdoor meet of the season, winning first place by 39 points," Head Coach Lindsey Cunningham said. "We battled the weather with the high winds and quick turn around for events, with it being a girls-only meet with six teams."
The night started off with field events. Sophomore Paige Wood placed second and threw a new personal record of 33 feet, 2.5 inches in the shot put, and freshman Maddie Samson was right behind her in third with a throw of 32-11. Senior Ashley Van Gorp jumped 14 feet, 1.5 inches in the long jump, landing her third place.
Sophomore Baylee Smith ran the 3000 for the Mustangs. She placed second with a time of 14 minutes, 12 seconds. First place was taken by junior Jordan Winke of Albia. She had a time of 11:08.31. The first-place shuttle hurdle team of freshmen Delaney Clarke and Megan Cowman, senior Morgan Novak and junior Tatum Nearmyer finished in 1:22.04. The Lady Mustangs had two top-three finishers in the 400 hurdles. Junior Jayci Vos placed first, and freshman Morgan Uhlenhopp placed third with times of 1:10.84 and 1:24.34, respectively. Vos also ran the 100 hurdles, placing first with a time of 17.55, and Cowman ran a time of 18.92, placing second.
In the 1500, freshman Paytan Schut came in first with a time of 5:38. Junior Rachel Stafford and freshman Avery Stock both ran the 400, placing second and third with times of 1:05.33 and 1:11.28, respectively. Stafford ran the 800, along with Smith. They placed first and third with times of 2:48.84 and 3:05, respectively. In the 4×800, the team of sophomore Amaya Hartson, Novak, senior Kiara Kappelmann and freshman Kirstin Ives placed second, with a time of 12:14.46.
The distance medley team of sophomore Ashley Miller, Nearmyer, Uhlenhopp and Schut ran a time of 4:51.4, landing them first place. Senior Emily Hugen, Uhlenhopp, Clarke and Van Gorp were part of the second-place 4×200 team. Both the varsity and the JV 4×400 teams placed in the top three. The varsity team, consisting of Van Gorp, Schut, Stafford and Vos, crossed the finish line in first at 4:31.12, and the JV team of Nearmyer, Ives, Novak and Kappelmann finished second with a time of 4:56.5.
"As a team, we were very competitive in all events, and I thought that we showed a lot of heart by really fighting for places. We had a lot of good times and splits for the first meet, and with those, we have chances to improve the rest of the season," Cunningham said.
The Lady Mustangs' season is only beginning. The girls' next meet is Thursday, April 7, at Eddyville.
Field events will start at 4:30 p.m.