The Aftermath: March Madness in Iowa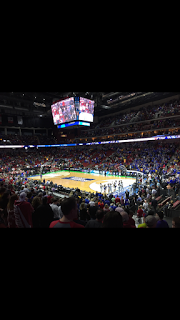 by Tyler Foster
March is the season of spring, and after a long winter, everything can become great again. It's also a time when college basketball seemingly brings an entire nation together, as we celebrate the wins and suffer over the hard losses (sorry, Northern Iowa. It was a great run).
For the first time in a long time, three teams from the state of Iowa not only made the tournament, but all advanced to the second round. Iowa State was the lone team to advance to the Sweet Sixteen after wins over Iona and Arkansas-Little Rock behind an incredible tournament by senior Georges Niang. Averaging well over 20 points a game, Niang was even able to bring the Cyclones close to an Elite-Eight with an incredible performance against Virginia.
Then there is the Iowa Hawkeyes. After roller-coaster season, the team rebounded after an early exit in the Big Ten tournament to win their first game in a thriller, where senior Adam Woodbury rose to the occasion and tipped in the game-winning basket in overtime to defeat Temple. Unfortunately, in the second round, Iowa ran into a red-hot Villanova team, now in the Final Four. Iowa lost by the same exact score that they lost to Gonzaga in the same round last year.
Now we cover UNI, probably the team that had the highest high and the lowest low of the tournament. Senior Paul Jespersen drilled a half-court shot to send an 11-seed Northern Iowa to the second round over Texas. Then, after their next game looked all but won, disaster happened. Against Texas A&M, the Panthers were up 12 points with 45 seconds left, but the Aggies came back and broke Northern Iowa's heart. A heart-felt postgame reminded everyone why the tournament is so great, and oh what Madness this March has been.