Boys' track looks to build off last year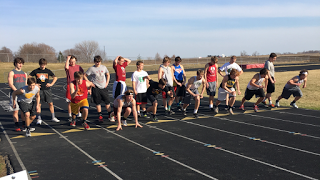 by Gunnar Davis
Last year, the PCM boys' track team had a decent season, finishing seventh place in the Heart of Iowa Conference track meet and moving on two events to the State track meet. The season was the first year that Collin Harrison led the Mustangs as head coach, and now he's eager to get going again.
"I am very excited for my second year," Harrison said. "As a new coach, there are a lot of growing pains and things you wish you could have done better. This year I feel like it is going a lot smoother, and I am excited to get the meet part of the season started."
Last year was a season that saw PCM perform well at some meets and post low scores at meets with bigger schools. Some of the highlights of the season were two top-three finishes at both Pella Christian and BGM. This year, Harrison has achievable goals for the team.
"My goal for the season is to improve," Harrison said. "For a lot of guys who were out last year, we set the ground work to be successful, and now I am hoping we can build on what we had as a team last year. As long as everyone works to improve, that would be a goal accomplished."
Harrison will look to rely on senior leadership this year. Seniors Gunnar Davis, Tyler Dredge, Davis Herndon, Trenton Howard and Austin Sneller all return to the team. Of the two events the Mustangs took to State this year, the lone returner this year is Sneller. He ran on a shuttle-hurdle relay team that placed 18th at Drake Stadium.
"My goal is to hopefully end up at State again, and I'm excited to see how everyone does," Sneller said. "We have a lot of talent and good potential."
You can catch the boys' team in action in their first meet at East Marshall on Tuesday, March 29.