SOTM: March 2016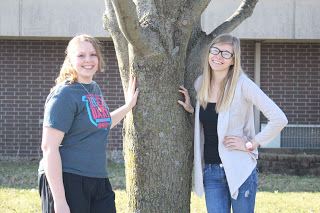 Name: Abagail VanHaaften
Nickname(s): Abbs, Abagilatha
Parents: Mark and Lindy VanHaaften
Employer: Myself
Future Plans: Attend DMACC and get a business degree. Then go to Gemological Institute of America in California and get my jewelry design degree.
Extracurricular Activities: Golf, volleyball, Art Club, GEL and Key Club
Three Words That Describe Me: I am a rebel.
Favorite Classes: Independent Study and Band
Advice for Underclassmen: Keep it moving in the hallways.
Best High School Memory: Going to HOIAC with Ashley, Bella and Ms. Kirk
Dream Job: President (vote for me)
Favorite Book: "Vampire Diaries"
Favorite Movie: "Hachi"
Favorite Band: PCM High School Band
Name: Jordan Dale Rawls
Nickname(s): Jordo, Piglet, Princess, Jordana, Sassy
Parents: Robin Schone and Stacy Schone
Employer: Monroe Foods
Future Plans: Go to UNI and major in Accounting and minor in Criminal Justice
Extracurricular Activities: Dance
Three Words That Describe Me: Funny, organized, determined
Favorite Classes: Accounting II, Spanish IV, Physics, PE, C&C Novels and Pre-Calculus
Advice for Underclassmen: Just remember that you don't have to live up to other peoples' expectations.
Best High School Memory: Doing the senior skit at Spirit Night
Dream Job: Financial Manager
Favorite Book: "To Kill a Mockingbird"
Favorite Movie: "The Notebook"
Favorite Musician: Dustin Lynch