Cooper begins wrestling dream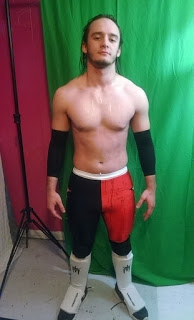 by Gunnar Davis
When people think of PCM senior Clay Cooper, they think of a fun-loving, entertaining and charismatic kid who's not afraid to put himself out there. There's no better profession for Cooper than the one he's now taking head on: Professional wrestling. Cooper makes his big debut March 18 at the Forte Center in downtown Des Moines.
Cooper has loved wrestling all his life and has been a fan since he can remember. He's always wanted to be a pro wrestler himself, but he never knew how. Recently, at a wrestling promotion called "Impact Pro Wrestling," otherwise known as IPW, he found the opportunity.
"I went on the website, and it said 'train with us,' so I called them up," Cooper said. "I was on the phone with the owner for about two hours. He was telling me to join now since I'm young. Then I got to go up there just to see what it was like, and it was fun. Now I go every Saturday from 12 to five o'clock."
Cooper travels over two hours to Algona every Saturday to train with other wrestlers and trainees. He is the one of the youngest wrestler there. He recently completed his training and was the fastest wrestler to ever finish the training through IPW, completing his training in just nine days. Now he's on a fast track to his big debut.
Although this is a smaller wrestling company, Cooper does possibly have an opportunity to work his way up and get signed onto a bigger company. He has big dreams and loves his chances.
"It would be great if I could actually make a living off of what I'm doing," Cooper said. "It would just be really cool wrestling around the world."
He is excited for his big match, and so is the PCM community. Cooper has found out that over 50 people from the community will be at his debut.
"I am beyond excited," Cooper said. "I talked to people that I wrestle with on Saturdays, and one of them had his debut in front of his hometown. He said it was an indescribable feeling. I believe I will have that same feeling every time I step in front of the crowd."
Be sure to catch "The All-Star" Clay Cooper in his first match on Friday, March 18, at the Forte Center, starting at 7 p.m. Cooper will take on "The Playboy" Ray Feuring.