Mixdorf, Van Haaften leave their mark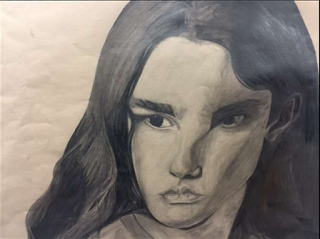 by Ashley Miller
PCM's art program has done it again. Five students from PCM entered the Scholastic Art and Writing Awards, and two came out victorious. On Jan. 29, the students were notified of their win. These two successful artists are seniors Abby Van Haaften and Jordyn Mixdorf.
"I was really excited to find out Jordyn and Abby had been selected for awards," PCM Art Teacher Ms. Sara Kirk said. "They both work really hard, and they deserve the recognition. I was also really proud that PCM students have been selected for awards for the second year in a row."
The awards began recognizing the literary and artistic talents of students across America from grades 7-12 in 1923. The work sent in is judged blindly by the leaders of the art world. Last year, PCM had two winners. Junior Bella George won a Gold Key for her painting "Stacy's Mom," and 2015 graduate Tristan Clark won a Silver Key for his drawing "Alligator Island."
This year, Van Haaften won a Silver Key for her necklace "On the Stem." The necklace is made up of marbles, paper beads, wire and glass beads. Van Haaften makes a wide variety of jewelry using a range of materials. She started making jewelry when she saw ladies trying to get people to come to their store in the Mall of America.
"They were trying to get people in their store," Van Haaften said. "I felt bad, so I went in to make them happy. I was surrounded by all these beads and jewelry. They explained to me how they make jewelry. To be honest, I wasn't interested at all. So I purchased some beads and went on my way. Two weeks later, I found the beads and decided I would make something with it. I created a necklace that I thought was beautiful. It was very fun to create that one necklace. I got into making more. Now it has taken over my life. It's all I want to do. If I didn't feel bad for these two ladies, I would have never started making jewelry."

Mixdorf got an honorable mention for drawing titled "Michael Hudson."  Michael Hudson is a Native American actor and model, and Mixdorf's inspiration to draw him was because of a created character she made as the controlled protagonist of the video game Dragon Age: Inquisition.
"I honestly wasn't expecting to win anything, so I was surprised to see I had gotten an honorable mention," Mixdorf said. "I really can't describe how I felt; I was just amazed at the fact I had done well enough to be deserving of an award in the first place, and I'm thankful for that. I always have such low expectations, so this was definitely a shock, but it was a boost to my self-esteem as well, knowing that someone or multiple someones found my work worthy enough to earn an award."
There will be an awards ceremony on Saturday, March 11, at the University of Iowa for the winners to attend. May next year be just as successful for PCM's artists as the last two. All of you aspiring artists, pick up those pencils and put them to paper: You could be one of the next winners.